This event has passed.
The Beaches Of Agnes
'+ INTRODUCTION
Category
Book Now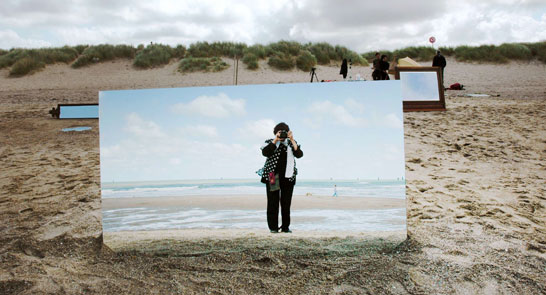 The Beaches Of Agnes
*Please note that there is a £1.50 fee per transaction
The Beaches of Agnès (18)
+ Introduction from Dr Fiona Handyside
English subtitles
Dir. Agnès Varda, France, 2008, 110 mins
'If we opened people up, we'd find landscapes, if we opened me up, we'd find beaches.'
Agnès Varda
Journey through the beachscapes of innovative French New Wave filmmaker Agnes Varda's life in this reflective, meditative, autobiographical documentary. Combining interviews, reenacted landscapes, reinterpretations of famous paintings as moving images, archive footage and photography, Varda employs a rich mix of materials to visualise this meditative voyage.
Aged 81 in this film, Varda (best known for Cleo from 5 to 7 (1962) and more recently The Gleaners & I (2000)) confronts the joy of creation and the pain of personal loss, death and aging. It is a singular trip played out against the stirring backdrop of the post-war explosion of cultural expression in France. She knew everyone: the French New Wave set (she was married to Jacques Demy), the Black Panthers in California and even Jim Morrison, who would visit Agnes when he was in Paris. Idiosyncratic, engaging and deeply moving, The Beaches of Agnès is the autobiography of a magnificent artist and a woman of vital curiosity.
Introduction
Dr Fiona Handyside, Lecturer in French and Film at the University of Exeter and author of Cinema at the Shore: The Beach in French Film introduces this title, exploring themes of femininity and cinematic beachscape as a site of identity before we settle down to the meditative and playful world of the leading female filmmaker associated with the French New Wave.
Meal Deal: The Big Night-Owtski
Join us before the film to enjoy a selection of french cheeses, accompanied by a baguette and a glass of wine (or a substitute beverage of your choice).
Showing Times:
Venue: Exeter Phoenix