Teddy Thompson & Kelly Jones
Category
Book Now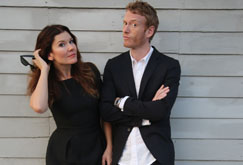 Teddy Thompson & Kelly Jones
*Please note that there is a £1.50 fee per transaction
Teddy Thompson with special guest Kelly Jones
+ Sunny Ozell
On their debut collaboration, Little Windows, Teddy Thompson and American singer Kelly Jones give audiences engaging views of the joys and sorrows of love and the vagaries of the human heart.
Longtime mutual admirers, Teddy and Kelly first sang together at LA's Club Largo in 2011. The songs that they've written since capture complex emotions with simple honesty. You can hear the give and take, the dynamics, the occasional imperfections, the deep human soul of performances.
After their first London show sold out in eight minutes and their Celtic connections concert in Glasgow had to transfer from a small theatre to the 2,000 capacity Royal Concert Hall, Teddy and Kelly are looking forward to their first national tour together.
Venue: Exeter Phoenix