Spork! A Real Life Gig
Secret Garden Gig
Category
Book Now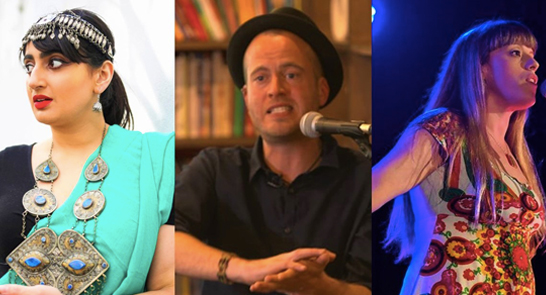 Spork! A Real Life Gig
*Subject to a £1.50 ticketing system charge. We don't charge this to make a profit. Find out more >>
Spork! A Real Life Gig
Spork! Is back in real life! Join us in the secret garden for an intimate (but socially distanced) afternoon of poetry, music & spoken-word. Featuring three spectacular South West artists; Liv Torc, Pete the Temp and Shagufta K Iqbal.
Liv Torc
Liv Torc is a poet, producer, former Bard of Exeter and current co-host of The Hip Yak Poetry Shack. She's a Radio 4 Slam winner, the inventor of the Haiflu, and went viral last year with The Human Emergency, a poem about motherhood and climate change.
Pete The Temp
Pete the Temp is a comedian, musician, author and spoken-word artist. His work has been featured on BBC Radio 4, The World Service and Newsnight. He's a former National Poetry Slam Champion and has performed around the world with organisations such as The British Council.
Shagufta K Iqbal
Shagufta K Iqbal is an award-winning poet and facilitator. She's the founder of The YoniVerse Poetry Collective and Kiota Bristol, a filmmaker, nominee of the Jerwood Compton poetry fellowship, a Tedx Speaker and the author of the incredible collection Jam Is For Girls, Girls Get Jam
Children very welcome. We'll make every effort to ensure that social distancing is in place during the event. For any accessibility needs or other questions please email sporkpoetry@gmail.com
Live Events In Exeter Phoenix's Secret Garden
This will be an outdoor, socially distanced gig with an audience limited to 20 people seated in deck chairs and a waiter service for drinks.
Venue: Exeter Phoenix's Secret Garden