SK Shlomo – Reconnect: Digital Raving
Front Room Phoenix
Category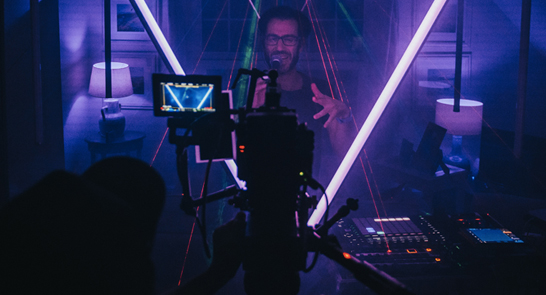 SK Shlomo – Reconnect: Digital Raving
Image credit Tom Arthur
---
Front Room Phoenix
Our auditorium may be temporarily closed, but we're not going to let that get in the way of bringing arts and culture to Exeter. Welcome to Front Room Phoenix – our way of beaming online creative activity straight to your sofa! We have teamed up with SK Shlomo to bring you the following exciting event.
---
SK Shlomo's Reconnect: Digital Raving
Join our virtual launch party as award-winning beatboxer and theatre-maker SK Shlomo proudly presents his BBC Arts short film Reconnect: Digital Raving after winning a BBC #CultureInQuarantine Award.
Reconnect: Digital Raving uses live-looped beatboxing and storytelling to explore one man's loneliness as he grapples with the challenges of lockdown through memories of a forgotten world. From the nostalgia of the childhood parties of his noisy Middle-Eastern immigrant family, to sneaking in underage to witness the sheer excitement of his first rave, Reconnect pushes through the pain of loss and isolation to find joy, expression and an intriguing new way to process our emotions even when we're stuck on our own: digital raving.
Join our launch party where you can watch the unveiling of the film, get a peek behind the scenes and post questions for SK Shlomo, alongside his creative team: the award-winning theatre director Matthew Excalibah Xia and BAFTA-nominated filmmaker Christian Britten.
Reconnect: Digital Raving is their first venture into 'rave-theatre' – it will be followed by both a full length solo theatre show and SK Shlomo's second album, both entitled Reconnect. Tune into the launch party to find out how to be involved in future Reconnect 'rave theatre' events- both online and in person!
How To Watch
Join the live watch party on Facebook Live here >>
The video will also be available to watch after the live event at the same place.