Reclaim The Night
Walkway Gallery
Thu 01 Jan 1970 - Thu 01 Jan 1970
Category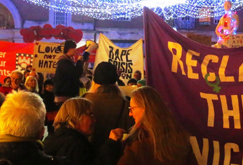 Reclaim The Night
Reclaim The Night
Devon Rape Crisis and Sexual Abuse Services, Stop Abuse For Everyone, Local Feminist groups and the University Femsoc have joined forces again to make this year another large, visible protest about sexual violence.
A group of women from Devon are planning the city's largest gathering against sexual violence on the streets this December. The Reclaim the Night events are designed to promote public awareness about the levels of violence and harassment experienced by women and girls on our streets.
#ExeterRTN
---
VENUE: WALKWAY GALLERY
Community based exhibitions from local groups, projects and creative activities.