This event has passed.
Rapha Ghetti + Bands
Category
Book Now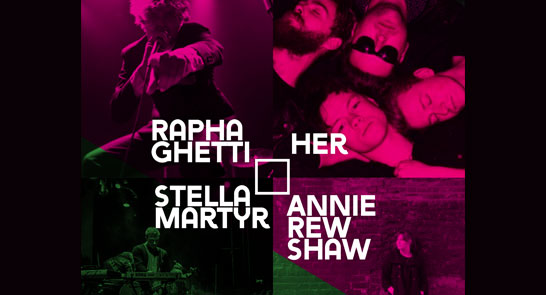 Rapha Ghetti + Bands
*Please note that there is a £1.50 fee per transaction
Rapha Ghetti
+ Her
+ Stella Martyr
+ Annie Rew Shaw
One night. Four acts.
Come along to Exeter Phoenix for a showcase of Exeter talent. Featuring Rapha Ghetti, Stella Martyr, Her and Annie Rew Shaw.
Rapha Ghetti
'Rapha Ghetti with his fast flow and soulful vocals brings a fresh sound to the scene, there is potential in this young hip-hop infused Devonian'
BOOM TOWN FAIR
Her
'Things are looking very good for HER. We like this a lot. Big, big band'
JAMES SANTER, BBC INTRODUCING IN DEVON
Stella Martyr
'This is music that makes me want to write poetry and reach for the stars. It's what pop is actually about. You'll find a way, I'm sure. For now, just be grateful that Stella Martyr exist.'
HUGH OGILVIE
Annie Rew Shaw
Annie Rew Shaw is 21-year-old pianist, singer and songwriter from Devon. Now living in North London, Annie is often accompanied by a live band – amplifying her performance yet preserving moments of fragility.
Inspired by the likes of Bon Iver, Daughter and Lykke Li, Annie's music has a distinct combination of powerful, classic songwriting with a tinge of melancholia and theatricality.
'A stunning performer and an incredible vocalist'
JAMES SANTER, BBC INTRODUCING
'Songs about sorrow and heartache, words struck with such emotion with vocals so elegant and heart-driven… powerful and captivating'
THE FLUX
Venue: Exeter Phoenix