Queercore: How To Punk A Revolution
Lost Weekend
Category
Book Now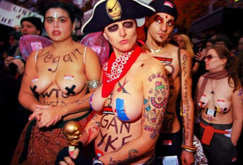 Queercore: How To Punk A Revolution
*A note on transaction fees
Card bookings will incur £1.50 administration charge, there is no charge for cash sales at the Box Office.
Lost in Film
Queercore: How To Punk A Revolution
Germany, 2017, 82 min
Directed by Berlin-based filmmaker Yony Leyser, Queercore: How to Punk a Revolution is a feature-length snapshot into the music and fanzines that gave voice to LGBTQ DIY Punk outsiders — those who didn't subscribe to the dominant gay scenes. Featuring Kathleen Hannah, Beth Ditto and others.
Venue: Studio 74, Exeter Phoenix