Pin Cushion (12A)
Caption Subtitled
Category
Price
£7* | £5* under 25s
Book Now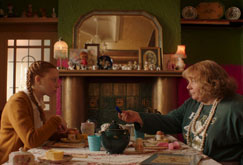 Pin Cushion (12A)
*Subject to a £1 ticketing system charge. We don't charge this to make a profit. Find out more >>
Pin Cushion (12A)
Showing times:
Dir. Deborah Haywood, UK, 2018, 82 mins
An emotionally piercing coming-of-age family drama following a mother and daughter's move to a new town.
Close-knit mother Lyn and daughter Iona are excited for their new life in a new town. Determined to make a success of things after a tricky start, Iona becomes 'best friends' with three local girls. Used to being Iona's bestie herself, Lyn feels left out. In retaliation, Lyn also makes friends with Belinda, her neighbour.
As much as Lyn and Iona pretend to each other that things are going great, they are both struggling more than they will admit. Iona struggles with the girls, who act more like frenemies than friends, and Belinda won't give Lyn her stepladders back.
As they struggle with their new surroundings, they retreat into a world of fantasy and lies.
CAPTION SUBTITLED
This screening will be caption subtitled. Find out more about caption subtitling here >>
Non-captioned screening times for this film can be found here >>
AUDIO DESCRIPTION
Audio Description headsets are available for this title. Audio Description is a service for partially sighted or blind people. Find out more here >>
To reserve an AD headset please email boxoffice@localhost or give us a call on 01392 667080.
Triple F-Rated:
Directed by a woman, written by a woman and starring a significant woman.
F-Rating is a new rating for films directed by women, written by women and/or with significant female characters on screen, in their own right. Find out more here >>

Venue: Studio 74, Exeter Phoenix