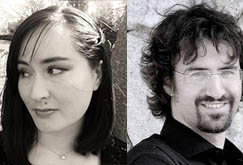 PIANO DUET CONCERT
*A note on transaction fees
A small £1.50 fee is added to each transaction. This covers the cost of getting your tickets booked, that's everything from the booking software to card charges. We don't charge this to make a profit.
PIANO DUET CONCERT
Italian pianist, Giacomo Dalla Libera and Scottish-Japanese pianist, Mariko Asakawa-North will team up at the Mint Methodist to give a recital of works for piano duet (four hands at one piano). The concert will begin with works by Schubert (an aficionado of the genre) including the Grande Rondeau in A major – the final piano duet to be published in the composer's short lifetime. This will be followed with 'Five Pieces' by the 20th/21st century Hungarian composer György Ligeti, perhaps best known for his eerie and evocative music featured in Kubrick's "2001: A Space Odyssey" and "Eyes Wide Shut." The recital will conclude with a rendition of Ravel's own transcription of his epic work: "Bolero."
Venue: The Mint Methodist Church