Osmosis UK (15)
New Artists' Film and Video from Taiwan
Category
Book Now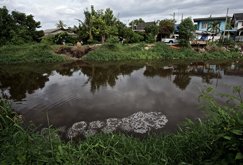 Osmosis UK (15)
*A note on transaction fees
A small £1.50 fee is added to each transaction. This covers the cost of getting your tickets booked, that's everything from the booking software to card charges. We don't charge this to make a profit.
Osmosis UK – New Artists' Film and Video from Taiwan
+ Artist Q&A
Taiwan, 80 mins, 2017
Showing times:
New artists' film and video curated from Osmosis, Taiwan's leading film, video and music festival. A varied collection of film and video by some of Taiwan's cutting edge artists working with moving image and creative technology.
All the artists grew up in the digital era, and their works respond to an age obsessed with digital culture and imagery, creating dialogues between technology, film and video art.
The programme will contain a new commission by Taiwanese artist, Wu Chi-Yu, entitled Reading List. The film – made in three Malaysian cities – George Town, Tanah Merah and Kota Bharu. Wu Chi-Yu will interview local communities, documenting their reactions/interactions with books, articles and literature forbidden in northern Malaysia. Interviews will be with booksellers about the trading and trafficking of such books, underground reading networks, and investigations into books banned for relating to "problematic" racial and religious ideologies.
Supported by Arts Council England, Leicester's Phoenix Cinema & Arts Centre and OSMOSIS Audiovisual Media Festival.
Screening programme
CHEN Yin-Ju, End Transmission, 2010, 15 min 40 sec
FAN Chih-Ming, In the Fog – Abandoned City, 2016, 7 min 34 sec
LIN Shih-Chieh, A Short History of Decay, 2014, 5 min 45 sec
NIU Jun-Qiang, When I'm Getting Older With You, 2009, 5 min 10 sec
HSU Che-Yu, Microphone Test: A Letter to Huang Guo-Jun, 2015, 25 min 18 sec
WU Tzu-An, Stargazing, 2017, 2 min 48 sec
WU Chi-Yu, Reading List, 2017, TBC min (in post-production)
We will be joined for a Q&A with some of the participating artists from Taiwan.
videoclub
videoclub is an artists' moving image platform showing artists' work across the UK and internationally. We support artists through curated programmes, engaging the public through screenings, exhibitions, talks, residencies and commissions.
Venue: Studio 74, Exeter Phoenix