Monsieur Lazhar
Category
Other Information
Meal Deal Available
Book Now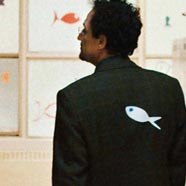 Monsieur Lazhar
Meal Deal available with this film:
ENJOY THE FILM PLUS A CANADIAN STYLE MEAL FOR JUST £11.50 (£10.50). To book call 01392 667080 (must be booked at least 2 days before event, subject to availability. For terms and conditions, click here).

Monsieur Lazhar
Canada. 2011. 94mins. Dir Philippe Falardeau.
Oscar Nominated for Best Foreign Film, 2011
Picking up audience awards at festivals wherever it goes this is an almost impossibly charming French Canadian drama. When a teacher kills herself at a primary school, Algerian immigrant Bachir Lazahar steps forward to become the new stand-in. Seeming somewhat rusty in his teaching experience, we watch as he adjusts to life in the school and the various culture clashes. A warm and ultimately uplifting experience, full of life learning by pupils under the tutelage of inspirational but imperfect teacher.
'A rare achievement' * * * *
THE INDEPENDENT

VENUE: EXETER PHOENIX