Misbehaviour (12A)
Events Temporarily Postponed
Thu 01 Jan 1970 - Thu 01 Jan 1970
Category
Book Now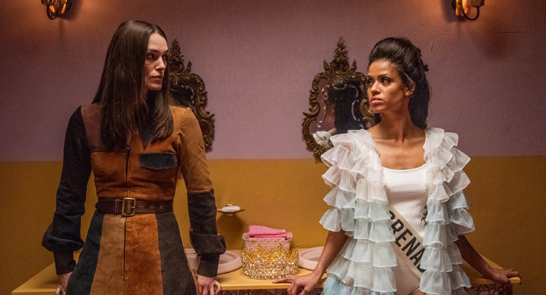 Misbehaviour (12A)
*Subject to a £1.50 ticketing system charge. We don't charge this to make a profit. Find out more >>
---
EVENTS TEMPORARILY POSTPONED
In response to the developing coronavirus situation in the UK, Exeter Phoenix is currently closed to the public. This is a temporary measure and we reviewing this on a month-by-month basis. No events will be taking place during April – the vast majority of events will be rescheduled for later in the year. Please note that the team are working through rescheduling a very high volume of events, but please rest assured we will be in touch with all ticket holders in due course. Please bear with us during this time.
Unprecedented closures like this with no confirmed government support will be hugely damaging for charities like Exeter Phoenix and many other sectors. If you are in a position to consider making a donation HERE, we would be extremely grateful.
---
Misbehaviour (12A)
Dir. Philippa Lowthorpe
2020 | 106 mins | UK, France
---
SHOWING TIMES:
Fri 3 Apr: 1.30pm

Fri 3 Apr: 6pm

Sat 4 Apr: 8pm

Sun 5 Apr: 1pm

Sun 5 Apr: 7pm

Mon 6 Apr: 7.30pm

Tue 7 Apr: 10.45am + Breakfast Deal

Wed 8 Apr: 2pm
---
TICKET PRICES:
£8* – Standard
£5* – Student / Under 25
£5* – Screenings Before 5pm (Excluding Sunday screenings)
+£5* – Add £5 to your ticket to claim our Breakfast Deal
£21* – 3 film tickets for £21
---
In 1970, the Miss World competition took place in London, hosted by US comedy legend, Bob Hope. At the time, it was the most-watched TV show on the planet with over 100 million viewers. The newly formed Women's Liberation Movement achieved overnight fame by invading the stage and disrupting the live broadcast.
The result also caused uproar: the winner was not the Swedish favourite but Miss Grenada, the first black woman to be crowned Miss World. In a matter of hours, a global audience had witnessed the patriarchy driven from the stage and the Western ideal of beauty turned on its head.
Directed by BAFTA winner Philippa Lowthorpe and With a stellar cast including Keira Knightley, Gugu Mbatha-Raw, Jessie Buckley, Greg Kinnear, Lesley Manville, Keeley Hawes, and Phyllis Logan, Misbehaviour is a politically relevant and inspirational true story, celebrating all women, inclusion and racial relations.
---

BREAKFAST + FILM |
ADD THIS TO YOUR TICKET FOR JUST £5
Enjoy breakfast in our Café Bar before the screening on Tue 7 Apr.
A Bacon or Sausage sandwich served in a glazed pretzel bun, alongside a crispy hash brown and served with any of our freshly made hot drinks or a can of delicious Cornish Orchards juice.
Breakfast + Film can be purchased from the box office or online, then simply take your ticket to the bar to order. Vegetarian/Vegan/Gluten Free options available.
(If you arrive after 10.30am, then we can't guarantee that you will have time to eat before the film, but you can certainly eat after!)
---
F-RATING
Triple F-Rated:
Directed by a woman, written by a woman and starring a significant woman.
F-Rating is a new rating for films directed by women, written by women and/or with significant female characters on screen, in their own right. Find out more here >>
---
---
VENUE: EXETER PHOENIX, STUDIO 74