Make A Zipped Purse
Evening Workshop
Category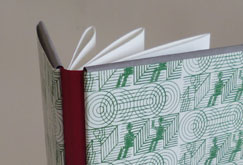 Make A Zipped Purse
*Subject to a £1 ticketing system charge. We don't charge this to make a profit. Find out more >>

Make A Zipped Purse with Arrietty
Evening Workshop
Design and craft a zipped purse in this hands-on workshop.
This course is suitable for sewing improvers. You will need to already know how to thread a sewing machine and sew a straight line.
Workshop attendees get 10% off all food and hot drinks at the Café Bar.
PROFESSIONAL TUTOR
Laurel Coxon (BA Hons Textiles) is a textiles practitioner and tutor at Exeter College. She has also been running her own business for the last 4 years, selling her designs and teaching classes.
PRE-COURSE INFORMATION
Participants will need to bring:
Fabric Required – 2x 25cm square of lining
2x 25cm square of exterior fabric
Matching thread.
A basic sewing kit and sewing machine – or you can rent one for the course for £5 per session.
Zips will be provided.
Suitable fabrics: We recommend using medium weight cotton, linen or light weight denim.
Venue: Exeter Phoenix