Mad Dog Mcrea
Category
Price
£16.50* standing | £18* seated
Book Now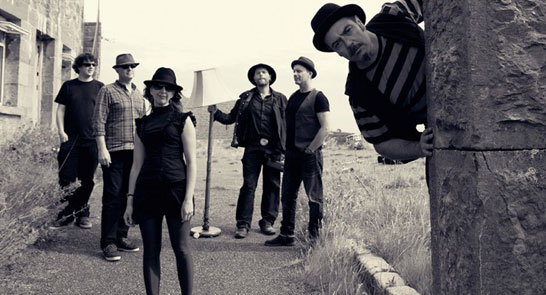 Mad Dog Mcrea
*A note on transaction fees
A small £1.50 fee is added to each transaction. This covers the cost of getting your tickets booked, that's everything from the booking software to card charges. We don't charge this to make a profit.
MAD DOG MCREA
+ Special Guests
Mad Dog Mcrea blend a unique mixture of folk rock, pop, gypsy jazz, bluegrass and 'shake your ass' music. From self-penned songs of adventure, drinking, love and life, to traditional songs of gypsies, fairies, legless pirates and black flies – Mad Dog never fail to capture their audience with their infectious songs.
It was at Glastonbury in 2013 (notably the Avalon Stage), the release of their 'Happy Bus' video, take-up from national radio from esteemed folk such as Mike Harding, and others………. Matched with the unshakable dedication of their massive and loyal to the hilt, fan base – that Mad Dog Mcrea began to become more than just a very popular, West Country festival act; – whilst obviously killing it live – Mad Dog Mcrea, determined that their fans and media alike – should see them as serious and acclaimed recording artists too.
Mad Dog's new album ALMOST HOME, produced by Sean Lakeman, is an album fuelled with the all the essential Mad Dog energy and antics that the band have become known for – Dave Podmore writes engagingly about Mad Dog stuff – as one might expect, all night drives, police car chases – Folk musicians, in particular have been playing tribute to the hero's of WW1 of late – MDM are no exception, offering up their bone chilling song – "You Can't Find Me". "The Sound" written by Seth Lakeman includes beautiful guest vocals from Suzie Mac.
In constant demand and having played just about every festival and two-bit, jibe-arsed dive in Christendom, Mad Dog Mcrea are, in every sense of the word, a live, band – ALMOST HOME – encapsulates that – and so much more.
The famous purple happy bus is fired up and ready for action, and there's room for you – jump aboard!


'It's always a joy to me when something jumps up and smacks you between the eyes – Mad Dog Mcrea did that to me'
MIKE HARDING
'A sound mixed, mashed and finely honed through years of live gigs'
ROCK N REEL MAGAZING
'This is rowdy, heartfelt, room shaking and spirit-stirring music that only the dead can't enjoy.'
ITDSTATE.COM
'Musical magicians Mad Dog Mcrea are synonymous not only with a damn good party but also quality musicianship and the odd surprise'
TALK TORBAY
VENUE: EXETER PHOENIX