Lætitia Sadier Source Ensemble
'+ Batsch
Category
Book Now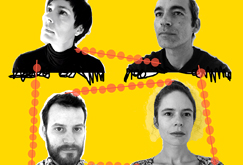 Lætitia Sadier Source Ensemble
*A note on transaction fees
A small £1.50 fee is added to each transaction. This covers the cost of getting your tickets booked, that's everything from the booking software to card charges. We don't charge this to make a profit.
L
æ

titia Sadier Source Ensemble
+ Batsch
Lætitia Sadier sometimes known as Seaya Sadier is a French musician best known as the singer of the band Stereolab. Sadier was working as a nanny when she met McCarthy guitarist Tim Gane at a gig in Paris during the late 1980s. Sadier was disillusioned with the rock scene in France, and soon moved to London to be with Gane and to pursue her career. She contributed vocals to McCarthy's final albums and when McCarthy broke up in1990 and she and Gane immediately formed the hugely influential Stereolab.
Find Me Finding You, is the new album from Lætitia's new ensemble.
From its percolating opening beat, Find Me Finding You locates new systems within the sound-universe of Laetitia Sadier. When we hear synth lines diving, lifting and drifting, unusual guitar textures, the plucked sound of flat wound bass strings or the bottomless pulsing of bass pedals stepping out of the mix with an exquisite vibrancy, this is the sound of the Source Ensemble!
This designation implies a new togetherness phase; alongside long-time collaborators Emmanuel Mario and Xavi Munoz, keyboard and flutes parts played by David Thayer were essential contributions, as well as further keys, synths and electronics from Phil M FU andseveral intense guitar sequences from Mason le Long.
'Stunning and euphoric'
THE LINE OF BEST FIT
'Oozes ethereality and sophistication'
PITCHFORK
Plus Support From Batsch
Batsch are an indie pop quartet based in the UK. Their smart, groove-oriented dance-pop takes nods from classic art rock like Talking Heads as well as modern contemporaries, such as Little Dragon and Dutch Uncles. All four members have toured extensively and recorded with other artists, including Laetitia Sadier, Marker Starling and Nicholas Krgovich. Batsch released their debut EP, Tiles, in October 2013 and its follow-up, also a five-track EP, Collar, in 2014. Their debut full length album Batch will be released April 21st 2017 on Tin Angel Records.
Venue: Exeter Phoenix