Keiron Leach
Cafe Bar Gallery
Thu 01 Jan 1970 - Thu 01 Jan 1970
Category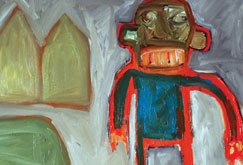 Keiron Leach
Keiron Leach
Keiron Leach takes inspiration from the North Devon landscape and its changing weather and light conditions. Using ink and wash, he creates a range of textural and visual difference, from subtle shifting tones to deeper impasto-like effects.
His practice embraces the English landscape tradition but also questions how art history has assessed this genre.
---
VENUE: CAFÉ BAR GALLERY
A platform for SW contemporary artists to exhibit and sell their (2D) work.