Jim White
Category
Other Information
Seated. All ages.
Book Now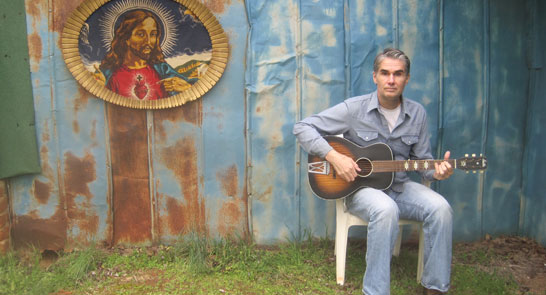 Jim White
*Subject to a £1 ticketing system charge. We don't charge this to make a profit. Find out more >>
Jim White
Jim White's sixth solo studio album, Waffles, Triangles & Jesus, is a mind-bending joy ride of sonic influences featuring a bevy of his hometown Athens' roots musicians, plus west coast indie darlings Dead Rock West, and rock and roll maverick Holly Golightly.
Numerous songs from his back catalog have appeared both in film and television, with his Primus-esque Word-Mule being featured in Breaking Bad, and more recently his cautionary rocker Crash Into The Sun appearing in Ray McKinnon's highly praised Sundance Channel series Rectify.
UK fans may recognize White as the narrator and defacto tour guide for the award winning BBC documentary, Searching for the Wrong Eyed Jesus, a road movie set in the rural South, which the LA Times described as 'decidedly strange, delightfully demented.'
http://www.jimwhite.net
VENUE: EXETER PHOENIX