This event has passed.
Gruff Rhys
Category
Other Information
Standing
Book Now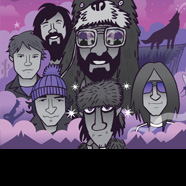 Gruff Rhys
*Subject to a £1 ticketing system charge. We don't charge this to make a profit. Find out more >>
Gruff Rhys
Doors: 8pm
Sweet Baboo: 8.15 – 8.45
Gruff: 9.15 – 10.30
Gruff Rhys is bringing his tour to Exeter this June. Gruff is a musician, composer, producer, filmmaker and author who performs solo and with several bands, including Super Furry Animals.
Babelsberg is the fifth album by Gruff Rhys, his first record for Rough Trade since 2007's classic Candylion.
The album's ten tracks were initially recorded in early 2016 in a whirlwind three day session that took place before producer Ali Chant's studio was demolished. The band he gathered for the record were his regular drummer Kliph Scurlock (ex-Flaming Lips) and multi-instrumentalists Stephen Black (Sweet Baboo) and Osian Gwynedd. The ten tracks then hibernated for eighteen months, awaiting orchestral scores by Swansea based composer Stephen McNeff and the incredible work of the 72 piece BBC National Orchestra of Wales.
The result is Gruff's best record to date – a ten song gazetteer of modern times, each track set to timeless, indelible melody. Amazingly, for a collection of songs written over two years ago, each one seems to pull very sharp focus on the times we're living in.
Over the course of Babelsberg's forty something minutes, Gruff manages to perfectly document our troubled and troubling times with humour, grace and always addictive melody. In a career that's spanned three decades, two languages, multiple bands, offshoots, collaborations and one boundless imagination, Babelsberg is arguably Gruff's finest set of songs to date. And we're willing to have that argument.
VENUE: EXETER PHOENIX AUDITORIUM