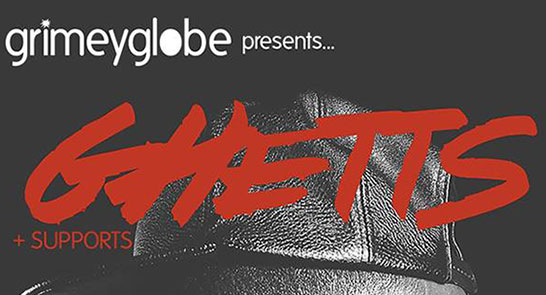 Grimey Globe presents Ghetts
In their first ever promotion, Grimey Globe is bringing one of Grime's pioneers to a brand new venue in Exeter.
GHETTS
Justin Clarke from East London, better known by his stage name Ghetts (formerly Ghetto), is one of the UK's most highly acclaimed Rap/MC Artists, synonymous with fast-flowing, hard-hitting lyrics, and a unique style of 'syllable rhyming'.
Ghetts' progress in the years since mixtape #1 has been all independent, all on his terms. He has toured the world, done the festivals and collaborated with some of the industry's biggest mainstream stars. In 2013, after taking time out to be a dad, Ghetts was again prepared to talk record deals but, rather than courting the majors, he opted for start-up label Disrupt.
Fittingly, the first major release on new independent label Disrupt is Ghetts' début album Rebel with a Cause which is available now. You can buy his top 40 album here.
CONFIRMED SUPPORTS (set times TBA)…
SCRULOOSE + DANJA AND RONNIE CASH
Scruloose is a Grime DJ and producer based in SW England. He first burst onto the scene with a 100% Grime mix featured on Mistajam's 1Xtra show and since then has played festivals and raves across the country, supporting top names in the scene, such as Preditah, Flirta D, Big H, Lethal Bizzle, Moony, Slimzee, Ruff Sqwad and Boy Better Know. He also holds weight as a producer with music supported by Spooky Bizzle and regular 1Xtra plays from the likes of DJ Cameo and DJ Target.
Scruloose will be joined on the night by MCs Danja and Ronnie Cash.
RONNIE CASH
Reggie aka Ronnie Cash is a Rapper/MC Representing Falmouth Town. Search 'Reggie Crem Dala Crem' on Facebook.
www.soundcloud.com/reggiecdlc
TYRANT (Grime set)
DJ Tyrant (formally known as T.Y) has been smashing the clubs of Exeter with his hard hitting mash-up of Drum & Bass, Jungle, Ragga, Liquid, Jump Up and Neofunk, He's supported many Drum & Bass DJs, including Aphrodite, Guv, Jayline, Alpha, Macky Gee and Levela. More recently Tyrant has developed a passion for Grime and started mixing the genre.
www.soundcloud.com/t-y-dnb
JAWJII
Jawjii represents Hold it Down and Deep End. Known for his dynamic genre range, he's not content with being a one dimensional DJ. His early influences in Exeter came from pioneering Dubstep/Grime/Garage events. Expect a set that stands out from the rest.
www.soundcloud.com/jawgpawg
KREPZ
Krepz is head honcho at Devon based promotion Pull Up That. As well as playing at his own events he has also landed slots at various nights around the South West, and represents Deep End alongside Pull Up That. Grime label Mixclique Records also released a guest mix from him as part of their guest mix series, which gained a good response from some respected DJ's in the Grime industry. Never one to come with a standard set list, you can expect Krepz to bring a variety of unreleased riddims and as well as some classics you haven't heard for years.
www.soundcloud.com/krepz
WGWN
Exeter Uni's Beats and Bass society member wgwn has come a long way in half a year. Having put out promo mixes on Good Street Records and Copydbwoy's soundcloud, interest is growing for this Essex-born DJ. With an eclectic taste, expect a mix of Grime bangers with the odd Jersey Club edit thrown in for fun.
www.soundcloud.com/copydbwoy/copydbwoy-presents-021-wgwn-uk
VENUE: THE TOBACCO HOUSE