Gandy Street Summer Fete
Category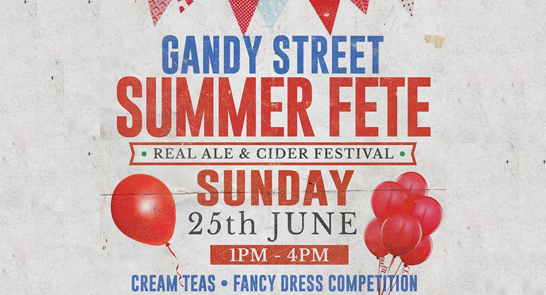 Gandy Street Summer Fete

Gandy Street Summer Fete
As the days get longer and lighter and spring turns to summer, the Gandy Street Traders will be bringing the summer holidays to Exeter with a spectacular family Summer Cider and Real Ale Festival.
On Sun 25 Jun, the cobbles of Gandy Street will be swamped with street entertainers, barbeques, musicians and crazy games as everyone gets into the swing of summer.
Visitors are invited to come along and try the ales and ciders, check out the offers from all the fabulous independent boutiques and businesses, enter the fancy dress competitions, (under 7s, 8-16 and adult categories) and try their luck with the tombola, coconut shy, hook a duck and maybe even get face-painted!
The Gandy Street Traders, really know how to throw a party and this is going to be our biggest and best yet.
Gandy Street Summer Fete is generously supported by Exeter BID.
Venue: Gandy Street