Gadjo
Category
Other Information
Standing
Book Now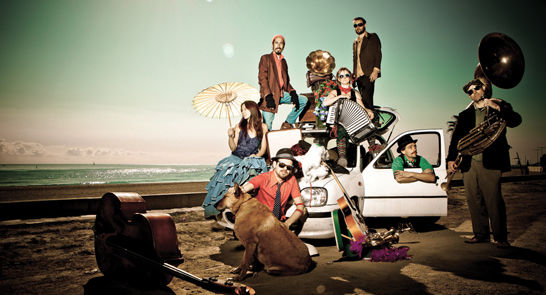 Gadjo
Gadjo with support from Jabbrock
Gadjo
Seven musicians bound by their Gadjistani culture, a rich and festive culture with bewitching rhythms and funny dances, exuberant, theatrical melodies and a mish-mash of languages.
Gadjo have toured extensively through Europe, sowing their musical mayhem as they go, from gypsy-cumbia, balkanic-ska to reggae-swing and surf tango. Sometimes they appear playing an intimate acoustic set on the market square, sometimes under the lights of a festival stage, but wherever it is expect the dust to fly as the music kidnaps your heart and lifts your feet into an unstoppable dance.

Jabbrock
Live dub reggae band with self-penned songs that blend melodic, soulful harmonies with elevating grooves and solid bass lines. Based in South West, UK.

VENUE: EXETER PHOENIX AUDITORIUM