Frida Kahlo
Events Temporarily Postponed
Thu 01 Jan 1970 - Thu 01 Jan 1970
Category
Book Now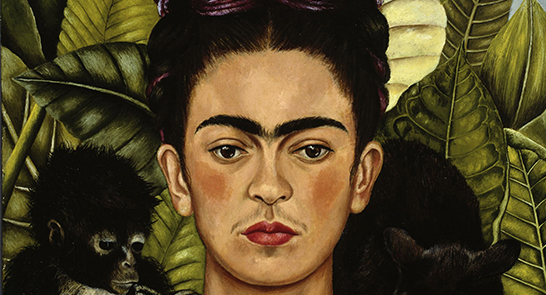 Frida Kahlo
EVENTS TEMPORARILY POSTPONED
In response to the developing coronavirus situation in the UK, Exeter Phoenix is currently closed to the public. This is a temporary measure and we are taking this on a month-by-month basis. The vast majority of events will be rescheduled for later in the year. We are following government advice and acting in the best interests of our visitors and staff.
Unprecedented closures like this will be hugely damaging for charities like Exeter Phoenix and many other sectors. We're reliant on our community to provide over 80% of the cost of running Exeter Phoenix each year. After seeing several members of our community reaching out to ask how they can help, we have provided a number of suggestions for how you can support Exeter Phoenix here >>
---
*Subject to a £1.50 ticketing system charge. We don't charge this to make a profit. Find out more >>
EXHIBITION ON SCREEN
Frida Kahlo
Dir. Phil Grabsky
2019, 85 mins
---
SHOWING TIMES:
Wed 8 Jul: 6pm
Wed 12 Jul: 1pm
---
EXHIBITION ON SCREEN
EXHIBITION ON SCREEN is the ground-breaking series of award-winning films that brings the world's greatest exhibitions, artists and galleries to cinemas around the world. Granted exclusive access, past productions have included Matisse from Tate Modern and MoMa, Painting the Modern Garden from the Royal Academy of Arts, and Vincent van Gogh: A New Way of Seeing from the Van Gogh Museum.
To date, EOS has worked with more than 40 major institutions around the world. Seasons 1-6, with a total of 22 feature films, have played in almost 70 countries worldwide with more than 2 million tickets sold.
'Wake up to a new way of seeing art'
GQ
FRIDA KAHLO
This highly engaging film takes us on a journey through the life of one of the most prevalent female icons: Frida Kahlo. She was a prolific self-portraitist, using the canvas as a mirror through all stages of her turbulent and, at times, tragic life. Guided with interview, commentary and Frida's own words, EXHIBITION ON SCREEN uncovers that this, however, was not a life defined by tragedy.
Featuring key exhibitions and interviews with world-renowned Kahlo curators, EXHIBITION ON SCREEN explores the extraordinary symbolism and themes in these personal canvases to seek a deeper understanding of the real Frida Kahlo.
Using cinema to take an up-close and intimate look at her works we examine how great an artist she can be considered. Displaying a treasure trove of colour and a feast of vibrancy on screen, this personal and intimate film offers privileged access to her works and highlights the source of her feverish creativity, her resilience and her unmatched lust for life, men, women, politics and her cultural heritage.
We might think we already know Frida Kahlo – the image of floral crowns, big brows and folk style clothing have made her a muse to generations – but what lies beneath the surface of this intensely passionate woman?
"'I never paint dreams or nightmares. I paint my own reality'
FRIDA KAHLO
---
VENUE: EXETER PHOENIX, STUDIO 74