Free Falling – A Double Bill
Hagit Yakira Dance
Category
Book Now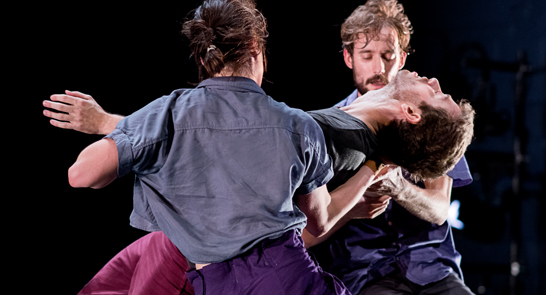 Free Falling – A Double Bill
*A note on transaction fees
A small £1.50 fee is added to each transaction. This covers the cost of getting your tickets booked, that's everything from the booking software to card charges. We don't charge this to make a profit.
Hagit Yakira Dance
Free Falling – A Double Bill
Award-winning Hagit Yakira dance presents Free Falling, an open-hearted double bill of down-to-earth dance that's sensual, striking and a beautiful respite from the hustle and bustle.
Based on a collection of stories gathered through years of working as a therapist, Hagit Yakira has created a powerful and atmospheric mixed bill that eloquently unravels real life experiences about the common uncertainties we share.
The evening opens with Air Hunger, an emotive and breath-taking duet, exquisitely composed with unashamedly demanding choreography that leaves the dancers gasping for air. Inspired by the fear and anxiety of suffocation, the performers embody reactions, images and memories, leaving the audience breathless.
Completing the evening, Free Falling looks at the fear of falling, failing and the ambition to recover. A captivating piece by four virtuoso performers taking audiences on a danced journey of trips, false starts, falls and lifts that will keep you on the edge of your seat.
This evenings performance will also include a short film with an insight in to the work, Hagit and the company.
Choreographed by Hagit Yakira, the evening is performed by an international cast of dancers – Sophie Arstall, Stephen Moynihan, Joel O'Donoghue, Verena Schneider, skilfully costumed by Elizabeth Barker and Bettina John, set against an original soundtrack by Sabio Janiak, light designed by Michael Mannon and with the dramaturge Lou Cope.
'Hagit Yakira and her company don't only dance, they live and take the audience with them.'
AUDIENCE MEMBER
????? '…the work of a rare choreographer who knows what she wants and knows how to get it and then gives it to you'
PLAYS TO SEE
????? 'It takes some skill and professionalism to pull off something like this, and choreographer Hagit Yakira has it in spades.'
LONDON THEATRE1
???? 'Eloquently crafted and beautifully performed'
LONDONIST
Venue: Exeter Phoenix