Flood and Pull
Events Temporarily Postponed
Thu 01 Jan 1970 - Thu 01 Jan 1970
Category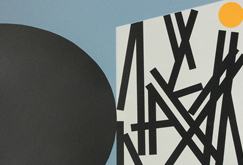 Flood and Pull
EVENTS TEMPORARILY POSTPONED
In response to the developing coronavirus situation in the UK, Exeter Phoenix is currently closed to the public. This is a temporary measure and we are taking this on a month-by-month basis. No events will be taking place during March, and the vast majority of events will be rescheduled for later in the year. We are following government advice and acting in the best interests of our visitors and staff.
Unprecedented closures like this with no confirmed government support will be hugely damaging for charities like Exeter Phoenix and many other sectors. If you are in a position to consider making a donation HERE, we would be extremely grateful.
---
Pink Shenanigans: Jeremy Speck
---
DOUBLE ELEPHANT GALLERY
Flood and Pull
---
This exhibition showcases the work of four Double Elephant Print Workshop screenprinters: Sarah Foque, Chris Laver, Rachel Jaques & Jeremy Speck. The range of work serves to highlight the versatility of this popular printmaking medium.
---
Sarah Foque
My work aims to challenge the established dichotomy of culture vs. nature. By utilising a visual language inspired by historic graphic design styles, works aims to highlight how nature still influences and underpins our day to day life and how different parts of our culture are intrinsically linked to the landscape that surrounds us.
---
Rachel Jaques
My work is influenced by mid-century pattern design, combining & contrasting organic textures, areas of solid colour & precise hand drawn detail. I am showing two screen prints inspired by Kew Gardens. This is a special place for me as it is where my parents met while working there as gardeners. I plan to create more Kew inspired prints in the future.
---
Chris Laver
My matchbox prints are based on actual matchboxes, commonplace objects that were rarely given a second glance. Enlarged in size they reveal how beautiful the original designs really were. I have tried to retain their individuality by leaving frayed edges and the slight misregistration of the originals. This theme of taking found, everyday objects and re-presenting them as artworks also applies to subject matter of my other prints on display.
---
Jeremy Speck
My abstract work is entirely concerned with the interaction of shape, texture and colour. Working within the flat layers of the screenprinting process I am always looking to create both tension & balance in the finished print.
---
VENUE: DOUBLE ELEPHANT GALLERY, EXETER PHOENIX
---
The new Double Elephant Gallery will present a programme of exhibitions that showcase critically engaged contemporary visual art that is grounded in printmaking practice. The gallery will also provide an accessible platform for the public to see and purchase exciting new works of art.
Artworks are available for sale and any enquiries should be directed to our box office on 01392 667080 or by emailing us here >>