Final Ascent
Pursuits Of Happiness
Category
Price
£8.50* | £5* Students and Under 25s
Book Now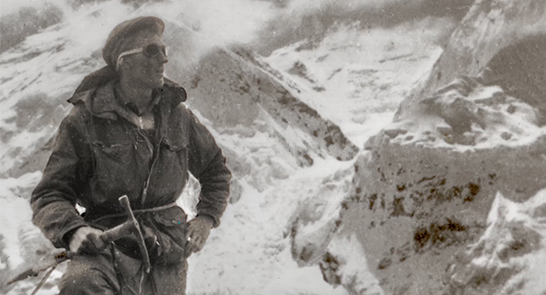 Final Ascent
*Subject to a £1.50 ticketing system charge. We don't charge this to make a profit. Find out more >>
Pursuits Of Happiness
Final Ascent: The Legend Of Hamish Macinnes

+ Short Film Screening
Dir. Robbie Fraser
80 mins | 2019 | UK
Hamish MacInnes, Michael Palin, Yvon Chouinard
SHOWING TIMES:
---
The legend of Hamish MacInnes began early. At 16 he climbed the Matterhorn. At 17 he built his first motor car – from scratch. He attempted Everest in 1953 with his friend Johnny Cunningham, and almost stole the peak before Hillary and Tenzing. As an explorer, expedition leader and engineer he achieved world fame.
As inventor of the all metal ice axe, author of the International Mountain Rescue Handbook and founder of Glencoe Mountain Rescue he has been responsible for saving hundreds of lives, if not thousands. But at the age of 84, his accomplishments could not save him from being institutionalised against his will, suffering from delirium.
After a spell in psychogeriatric detainment in a hospital in the Highlands of Scotland, during which he made many escape attempts – he emerged to find his memory gone. This film tells the story of his life by mirroring his greatest challenge: to recover his memories and rescue himself.
---
Viacruxis

Dir. Ignasi López Fàbregas, 11 mins, 2018, Spain
Fresh out of EVERY adventure film festival on the globe, join us for this very special South West preview of VIACRXUS.
Marcel and Andrezj are a legendary pair of mountaineers. They have been the first ones to conquer the highest and hardest peaks. Despite their different temperaments, they make a great team. Marcel has taken the lead and popularity, whereas Andrezj always plays a secondary role. Now they face the biggest challenge: reaching the virgin summit of the highest mountain. In order to achieve this, they will have to overcome formidable obstacles, suffer hardships and stand each other for a long time. But Andrezj is no longer willing to continue in Marcel's shadow.
---

Part of our Pursuits Of Happiness Film Season
A season of documentaries, features, shorts and talks which explore the fine line between hobby and obsession.
This season is supported by the following:
---
VENUE: EXETER PHOENIX, STUDIO 74