Fatty Fat Fat
Postponed until July
Category
Book Now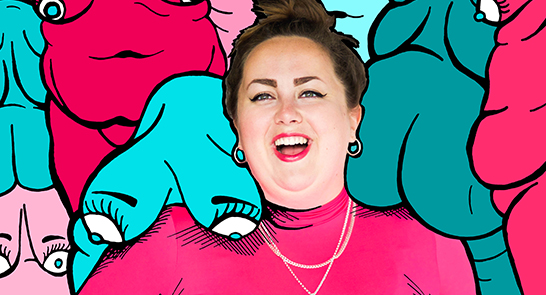 Fatty Fat Fat
*Subject to a £1.50 ticketing system charge. We don't charge this to make a profit. Find out more >>
---
This event was originally scheduled for Sun 19 Apr but has been rescheduled to Thu 9 Jul due to COVID-19.
---
Fatty Fat Fat
Katie Greenall and Daisy Hale
---
Take advantage of our new early bird special! The first 10 tickets to this and other shows are just £5. The discount will be applied automatically at the last checkout screen, or call our box office on 01392 667080 to check availability.
---
TICKET OFFER – SAVE £6
Explore more of our theatre and performance programme, and enjoy money off your tickets! Save £6 when you book for three shows from our performance programme.
Book any three theatre or dance shows and your £6 discount will be applied automatically.
---
Do you ever feel like your body takes up too much space in a world that doesn't want to make any room? Katie is fat. She's pretty much always been fat, and probably will be fat forever more.
Join her in the 'Cha Cha Slide', munch on some crisps, and have a listen to what it's like to live in body that people can't help but have an opinion on. Fatty Fat Fat is a funny, frank and provocative solo show about living in a body the world tells you to hate. Leave your diet books at the door.
---
Winner of the Origins Award for Outstanding New Work at Vaults 2019
14+
---
Venue: Studio 1, Exeter Phoenix