Exeter's Lost West Quarter and Snowbound Exeter
Category
Price
£8.50*
Time
11.30am-1.30pm & 2.30pm-4.30pm
Book Now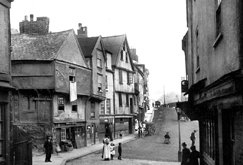 Exeter's Lost West Quarter and Snowbound Exeter
*A note on transaction fees
A small £1.50 fee is added to each transaction. This covers the cost of getting your tickets booked, that's everything from the booking software to card charges. We don't charge this to make a profit.
Exeter's Lost West Quarter and Snowbound Exeter
A two-part presentation of rare archive photographs of Exeter relating to the historic West Quarter of the city. A special inclusion is a feature of the snowstorm on 2011 with stunning images.
Venue: Exeter Phoenix