This event has passed.
EXETER SOUND CLASH
Category
Other Information
Standing
Book Now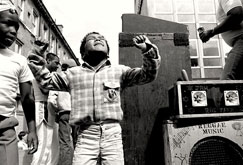 EXETER SOUND CLASH
*Please note that there is a £1.50 fee per transaction
Exeter Sound Clash
A modern take on a traditional 1950s Jamaican sound clash, Exeter Sound Clash brings together sound systems from across Devon for the first ever clash of this scale in Exeter. It involves 4 'rigs' or sound systems battling it out round by round to see who has the best tunes, dubplates, audio quality and decor.
Featuring: Sammy sound from Exeter, Konan sound system from Barnstable, Riddim sound from Paignton, Gridlock sound system from Cullompton and a special appearance from GroundVibes sound system from Totnes who will be playing the bar for what will be one of their last ever nights.
Expect bass heavy genres including reggae, drum and bass, house, bassline and possibly a bit of grime, hip hop and more.
Sound clashes are decided by their audience, that means we need YOU! So bring some friends and cheer on who you think is the best.
'A clash is where two [or in this case 4] sounds are playing each other. The clash is based on who has the better music…It's all about upstaging your rival. And the judge is the people!'
Wookie
'Say nothing, Dub everything.'
Rebel Sounds philosophy toward a sound clash – winners of the Red Bull culture clash 2014.
'Sound systems make you feel good. No one lives forever; your life is just moments'
Neville Grooves
VENUE: EXETER PHOENIX AUDITORIUM + TERRACE
FACEBOOK EVENT HERE >>