Doug Jones : Non Sum Qualis Eram
Fri 03 Mar 0800 - Thu 01 Jan 1970
Category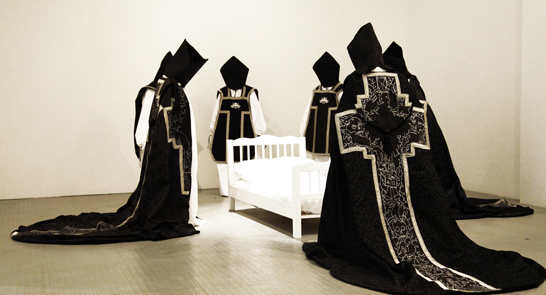 Doug Jones : Non Sum Qualis Eram
Growing up as a chorister of Lichfield Cathedral School amidst Anglican clergy, resplendent in their elaborately embroidered garments, Doug Jones shows a fascination both with the rich symbolism & iconography of the uniform, and with the relationship between authority & childhood.
For the new works in this solo exhibition, Jones has painstakingly created a congregation of bishop-like figures, their robes edged with vintage trimming and hand embroidered in silk thread, sourced from ecclesiastical suppliers to the Vatican.
Through his eclectic use of textiles, detailed with symbolism in the Vanitas (referring to the transient nature of life & certainty of death), Jones invokes a journey from cradle to grave in which the boundaries of the playground & sickbed are blurred into ritual & ceremony.
By turns, dark & brooding and irreverent & celebratory, Non Sum Qualis Eram interrupts the continuity of the real by offering a familiar, but seemingly impossible experience.
Artist's website Here
See installation shots Here