This event has passed.
Cherelle Sappleton
Exhibition Preview
Category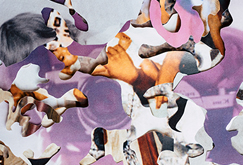 Cherelle Sappleton
Cherelle Sappleton
Among Other Things
---
EXHIBITION PREVIEW
Thu 13 Feb | 6PM – 8PM | FREE
Join the artist for a glass of wine and a first chance to see the exhibition.
---
Sappleton's practice centres on an exploration of photographic media, with an interest in feminist agendas and performance, utilising abstraction and surrealist aesthetics. Recent works have been grounded primarily in processes of collage and abstraction, which are used to explore and respond to issues of representation, agency and the materiality of photographic imagery.
---
---
VENUE: EXETER PHOENIX, PHOENIX GALLERY