Bloom Think Ins
Thu 01 Jan 1970 - Thu 01 Jan 1970
Category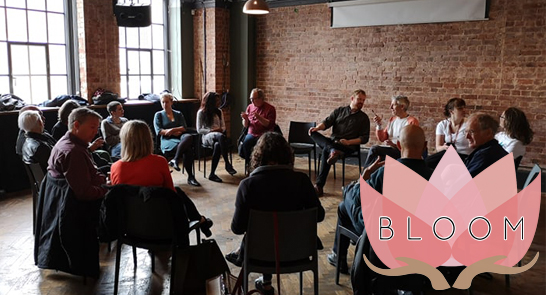 Bloom Think Ins
Bloom Think Ins
---
Think In Sessions:
Mon 4 Nov: 6pm – 7.30pm

Thu 7 Nov: 12.30pm – 2pm
---
In May, Bloom 2020 will return to Exeter Phoenix as part of Mental Health Awareness Week. Bloom is a festival celebrating mental wellbeing and encouraging openness around metal health.
Bloom is a festival for the community, and so we would like to take this opportunity to invite your input. We would love to hear from you about what mental wellbeing means to you and what you would like to see from Bloom 2020.
You can find out a little about the festival pilot, Bloom 2019, here which featured a variety of activity from poetry, panel discussions, workshops, theatre, open mic, music, conversations, board games and more.
The think-ins will take place in the Workshop, on the ground floor of Exeter Phoenix. These will be friendly, open and welcoming sessions. Everyone is welcome, whether you want to contribute or listen. No booking is required.
---
If you are unable to attend either of these sessions but would like to contribute your thoughts, please feel free to send an email to dettie.ellerby@localhost
---
Venue: Exeter Phoenix, The Workshop