Big Wata
Pursuits of Happiness
Category
Price
£8.50* | £5* Students and Under 25s
Book Now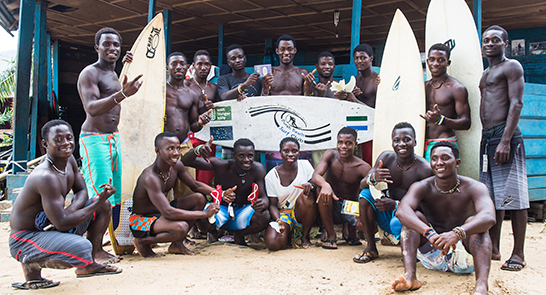 Big Wata
*Subject to a £1.50 ticketing system charge. We don't charge this to make a profit. Find out more >>
PURSUITS OF HAPPINESS
Big Wata
Dir. Gugi Van Der Velden
80 mins | 2018 | Sierra Leone
Subtitled
SHOWING TIMES:
---
This screening does not feature adverts, the film will start promptly at the advertised time.
---
BIG WATA is a positive story about the first and only surf club in Sierra Leone. Wanting to break free from the restrictions of a traditional community the younger members of a West African fishing community discover surfing as their identity and purpose in life.
Embarking on a journey the members explore the opportunities surfing could offer their community. Shot during the Ebola outbreak BIG WATA offers a fresh perspective on West Africa showing how the diversity and resilience of this community enables them to dream big and bring light in an otherwise dark time.
40% of your ticket price will go directly to the Surf Club.
---
A MILLION WAVES
Dir. Daniel Ali, Louise Leeson, 8 mins, 2016, UK, Sierra Leone
A Million Waves, is a portrait of 19-year-old surfer Kadiatu Kamara, aka KK, who is the only woman surfer at Bureh Beach, south of Freetown—and, it is claimed, the only women surfer in Sierra Leone.
---

PART OF OUR PURSUITS OF HAPPINESS FILM SEASON
A season of documentaries, features, shorts and talks which explore the fine line between hobby and obsession.
This season is supported by the following:
---
VENUE: EXETER PHOENIX, STUDIO 74