Bare Safe & Elements Halloween
Category
Book Now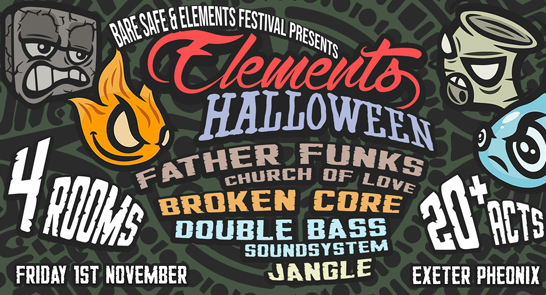 Bare Safe & Elements Halloween
*Subject to a £1.50 ticketing system charge. We don't charge this to make a profit. Find out more >>
Bare Safe & Elements Festival Presents
Elements Halloween
Bare Safe and Elements Festival join forces to bring you the mother of all Halloween party's with takeovers from Father Funks Church of Love, Broken Core and Jangle. Going in hard on decor, interactive performers, projections and some serious sound systems! Big shout out to Defaced Designs for the artwork!
---
EARTH STAGE
Father Funks Church of Love
JINX IN DUB (Butter Pie Dubs)
FATHER FUNK (Funk Therapy)
CAPTAIN FLATCAP LIVE (Scour Records)
TWO GOOD (Soundplate Records)
SIDICULOUS
THE CHURCH OF LOVE IS GOING ON TOUR! Exeter are you ready for this!? After 3 years of debauchery in Bristol and in the fields of Somerset at Shindig Weekender, it's time for us to take this show on the road! Complete with nuns, church and rotating mirror cross. London, Cardiff and Brighton smashed it already. Milford Haven and Exeter to go!!
---
FIRE STAGE
Broken Core
E-COLI (Amen4tekno)
BROKEN CORE TAKEOVER
MOOREMAN (Third Nipple)
SHORTSON (Rigurgitate)
RED (Unit 8)
Formed from the ashes of the Tek shop at Boomtown Fair. Broken Core was established to give a platform play filthy sounds to the masses. Our team has been affiliated with the underground scene for years now with the crew behind events such as Erisian, Lemtek, Monkey Dance, Bang Hard Tek, K.I.D soundsystem, Kinetic Audio & Ruckus Sound System, as well as a big presence on the European free party scene.
---
WATER STAGE
Double Bass Sound System
ASBO DISCO w/MC JAKES (Super Sharp Recordings)
GOLD DUBS (Born on Road)
KREED (Boom Sound)
FAT STASH (Boom Sound)
RAGGAMUFFIN
Bristol does it best! Expect a great selection of Dj's selecting Dub, Bass Music, Jungle and hooning DnB over a one of a kind, hand crafted sound system! You ain't seen nothing like this before!!
---
Air Stage
Jangle
HIGGO (Rare Supply)
FRONTA
RAEMAN
VIBE RATER
Bringing you out of this world bass flavas, Jangle will take you on a voyage filled with repetitive beats, womping bass and sexy vocal samples. Chunky Garage and Bassline + much more
---
THE FIFTH ELEMENT
Chill out area and art
Expect more details soon, and plenty of surprises
---
VENUE: EXETER PHOENIX