Almost The Bonzo Dog Doo Dah Band
Category
Book Now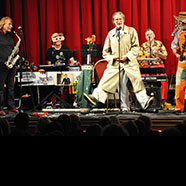 Almost The Bonzo Dog Doo Dah Band
*Please note that there is a £1.50 booking fee per transaction
Almost The Bonzo Dog Doo Dah Band
Part of the band's last ever tour!
Robots, smoke, unsuitable medical technology, ancient theatrical props, the kitchen sink and the audience (you get to join-in!) all combine to create Almost The Bonzo Dog Doo Dah Band.
Bonzo Dog Doo Dah Band fans will be delighted to learn that Roger Ruskin Spear, Rodney Slater and Sam Spoons have teamed up with super-pianist Dave Glasson and the magical Vernon Dudley Bowhay Nowell to create more fun, music and subversive diversion in the spirit of the ageless band.
The line-up
Rodney Slater – alto sax, bass clarinet, washboard
Roger Ruskin Spear – tenorsax, clarinet, trouser press & robots
Sam Spoons – drums, electric spoons & didgereedon't
Vernon Dudley Bowhay Nowell – Amazo The Magician,banjo, musical saw, magic
Dave Glasson – piano, bass pullover & glasses
It's half a century since Viv Stanshall and Rodney Slater conceived the Bonzo Dog Doo Dah Band. They've appeared with members of Monty Python, The Beatles, Eric Clapton, The Kinks and The Who as well as having a Top 5 hit with Urban Spaceman. The musical missing link between The Goons and Monty Python, they featured as the house band on Do Not Adjust Your Set, a fore-runner of Monty Python, with Michael Palin, Eric Idle and Terry Jones, as well as a young David Jason. Comedians Stephen Fry, Adrian Edmondson, Eddie Izzard, Chris Morris and Bill Bailey have all named the Bonzos as a formative influence.
This show will provide diabolical mayhem from the largest number of Bonzos still playing together anywhere on the surface of the earth. Born in a distant art school past somewhere in the sixties, now Almost The Bonzo Dog Doo Dah Band unleash their Bonzo Dog classics with energetic zip and palaver. Jollity Farm, Hunting Tigers Out In India, I'm Bored, My Pink Half of the Drainpipe, Big Shot, Monster Mash, The Trouser Press, Can Blue Men Sing The Whites? and many more.
You have been warned!
'Poking a big pink tongue at contemporary mores, they're as sharp today, both musically and satirically, as they ever were.' John Blaney, Shindig
'This could only happen in Britain'
KOMEDIA
'The undisputed heavyweights of comedy pop.'
DAILY EXPRESS
'Like a ripe fungi sending spores of comedy far and wide.'
WORCESTER NEWS
'After a week of road sweeping, this was colossal!'
LORD HENRY OF UPPINGHAM
'Panto for adults – and wonderfully enjoyable.'
PLYMOUTH HERALD
'Still cause giggling like nothing else in pop.'
DAILY EXPRESS
'Daft mayhem lives on.'
COUNTY TIMES