This event has passed.
47Soul
Category
Other Information
14+ | standing
Book Now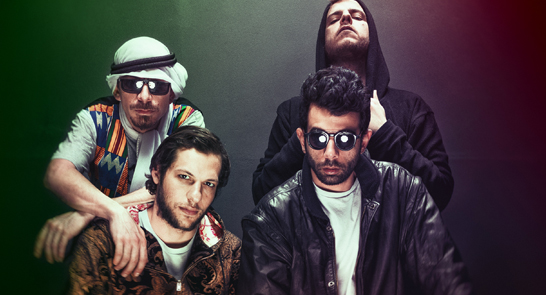 47Soul
*A note on transaction fees
A small £1.50 fee is added to each transaction. This covers the cost of getting your tickets booked, that's everything from the booking software to card charges. We don't charge this to make a profit.
47Soul
+ The Allergens
+ Chiara & the Vu
+ DJ Timi Ajani
Since forming in Spring 2013, 47Soul have launch their high energy music in the Middle East, completed 2 UK summer festival tours, and sold out shows at some of London's best music venues.
The music of 47Soul combines Debka, the traditional Palestinian street music and dance, with deep electronic beats mixed with sounds of the Middle East, from Iraqi Choubi to Mijwez. 47Soul takes these sounds to the global dance floor with analog synthesisers, dub-effects and trance inducing guitar lines. Their lyrics, mixing Arabic and English, focus on celebration, freedom and the struggle for equality around the world.
Featured on the BBC for inspiring new communities in London, every 47Soul show unites cultures across borders and explodes into raucous Debka dance. The city of London has not been the same since they arrived.
'47SOUL have crossed over, a bridge from the East to the West.'
BBC World
'It is rare you find a band with such a unique sound and vibe'
LINE RINDVIG, MTV
Proceeds from the night are going to Medical Aid for Palestinians.
Venue: Exeter Phoenix Auditorium