Bloom Poetry Competition 2022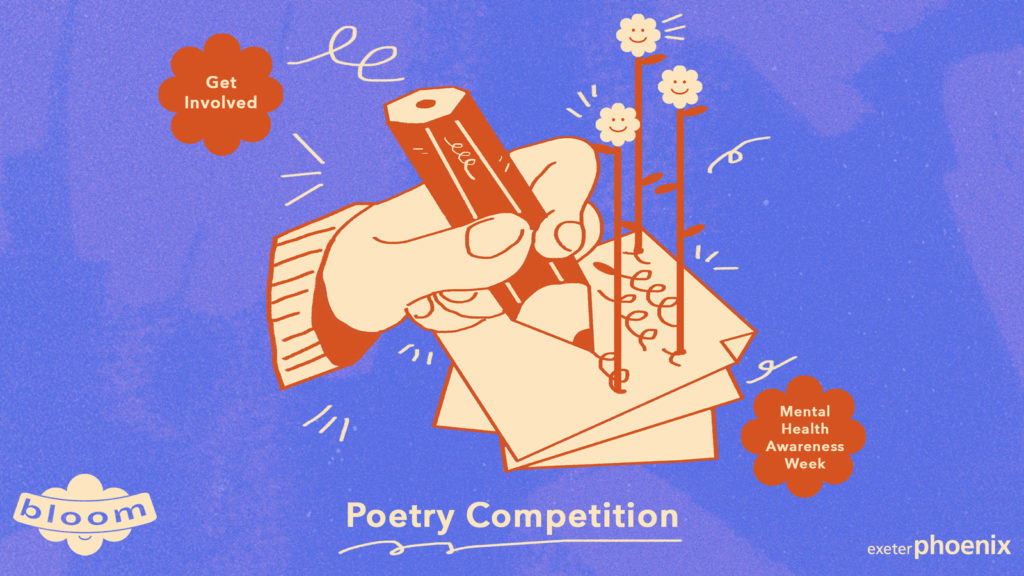 Exeter Phoenix are delighted to announce the return of the Bloom Poetry Competition! This competition is taking place as part of Bloom – our third annual festival celebrating Mental Health Awareness Week.
The theme for Mental Health Awareness Week 2022 is loneliness and we invite your poems on this theme, as well as the larger themes of mental health and wellbeing. The competition is free to enter and open to all.
Whatever your rhyme or reason for writing poetry, we look forward to reading your entries!
CATEGORIES AND JUDGES
Two categories are open for entries. One winner will be announced per category.
Bloom Junior Poetry Competition (for ages 17 and under)
Bloom Poetry Competition (for ages 18 and over)
Our judges for the competition will be Exeter Phoenix's resident poetry enthusiast Anna-Ruth Peel-Cusson, The Poetry Archive's Dr Tracey Guiry and Spork!'s Chris White.
WINNERS AND PRIZES
One winner will be announced for each category. A highly commended shortlist may also be shared. The winning poem for each category will receive:
An original illustration inspired by your poem
Your poem published on Exeter Phoenix's website
An opportunity to perform your poem live at Exeter Phoenix for the BLOOM Open Mic Night on Sun 8th May 2022 (7pm – 9pm).
A pair of theatre tickets
A pair of cinema tickets
BLOOM POETRY COMPETITION DETAILS
Maximum length: 50 lines. Titles, dedications and lines between stanzas are not included in the line count.
Poems can be traditional or experimental in form
There is no entry fee – participation is free
Applicants may only enter one poem
HOW TO ENTER
The competition is free to enter and open to everybody. You can enter online by filling in the online form below.
The deadline for submissions is Fri 29th April 2022 at 10am.
If you would prefer to enter by post, please send your entries to: Bloom Poetry Competition
FAO Anna-Ruth Peel-Cusson
Exeter Phoenix
Bradninch Place
Exeter
EX4 3LS
If you have any questions, need some assistance with the form, or would prefer to submit your work in another way, please email christina.bulford@exeterphoenix.org.uk and we will be happy to help.
---
Find out more about Bloom Festival of Mental Health Awareness here >>