Behind The Scenes: Brief Encounter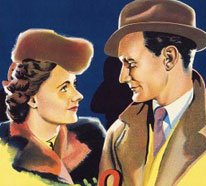 Behind The Scenes: Brief Encounter
The making of a classic during the Second World War
Now one of the most iconic British films of all time, Brief Encounter endured a rather unique set of filming challenges. Filming took place between January and May 1945, during the last months of the Second World War. So what were the challenges of making a film in wartime?
The biggest challenges faced by the production team were often to do with finding locations. Originally the scenes in the train station were going to be filmed in London, but with the ever-present threat of air strikes, the company was evacuated to outside the city. This led to the need for a new location to shoot the, now iconic, railway station scenes.
A suitable option was soon found at Carnforth, north Lancashire. The main reason Carnforth Station was chosen was that as it was so far from the South East coast, the crew would receive sufficient warning of an approaching air-raid attack that they would have time to turned out filming lights and comply with blackout restrictions.
For residents of Carnforth, the arrival of a film crew brought much excitement, with many locals being cast as extras. The highlight for those chosen was the provision of dinner each night, which often included sweets and other items that were otherwise controlled by rationing.
However, the use of a new, non-London location brought new and unexpected challenges for the crew. When trying to shoot images of high-speed trains passing through the station, director David Lean hit upon a problem. Train drivers in Lancashire were not used to cameras and production lights being pointed at them, and when they saw them they feared there was a problem at the station. The approaching trains therefore all slowed to a mere crawl on approaching the station. In order to get his shots, David Lean ended up having to send a railway traffic officer to the other stations in the area, reassuring drivers that they could maintain their speed whilst passing through Carnforth.
Scheduling during wartime brought about its own difficulties. When the war ended, Victory in Europe Day was declared, and so on May 8 1945, the cast and crew were given the day off. This wasn't exactly so that they could go and celebrate, but rather because the cameras and crew were needed to help cover the VE Day celebrations in London.
With Brief Encounter celebrating its 70th anniversary this year, filmmaking may have changed dramatically, but the allure of this timeless classic has not faded. Thousands of people every year make the pilgrimage to Carnforth Station to take tea in its refreshment rooms and recreate the scenes from the film. Critical acclaim also continues to grow for Brief Encounter, with  The Guardian describing it as 'the best romantic film of all time', and BFI's ranking it as number two in its list of the Top 100 British Films.
Don't miss your chance to see this timeless classic on the big screen. 
As part of our #BFILove season, you can see Brief Encounter at Studio 74 on Thu 19 Nov. Find out more here >>