BAFTA Nominees 2020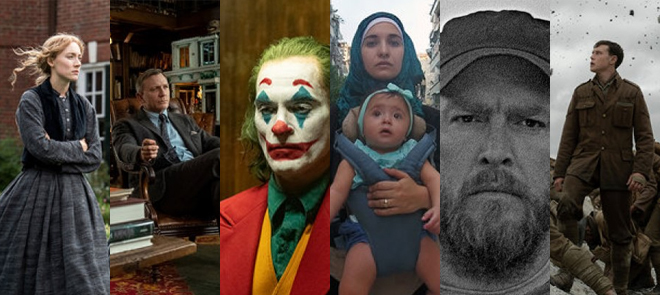 BAFTA Nominees 2020
Earlier today, BAFTA announced the nominees for the EE British Academy Film Awards in 2020. We're delighted to say that the majority of the nominated films have been screened at our solar-powered cinema Studio 74 over the past few months!
A personal highlight for us is the South West smash BAIT which had several sold out screenings with us and is now nominated for Outstanding British Film & Outstanding Debut!
See the full list of upcoming nominees below, we'll update this page with links to purchase tickets once all films are listed online!
---
Upcoming Films at Studio 74
---
Best Film

Outstanding British Film

Best Director (Sam Mendes)

Original Music

Cinematography

Production Design

Make up and hair

Sound

Special Visual Effects
PARASITE (COMING SOON)
Best Film

Best Director (Bong Joon-Ho)

Film not in the English language

Original Screenplay
Film not in the English language
Outstanding British film

Outstanding Debut by a British writer, director or producer
Leading Actress (Saoirse Ronan)

Supporting Actress (Florence Pugh)

Adapted Screenplay

Original Music

Costume Design
Supporting Actress (Scarlett Johansson)

Adapted Screenplay

Original Music

Costume Design

Editing

Production Design
Cinematography

Editing

Sound
THE LIGHTHOUSE (COMING SOON)
THE PERSONAL HISTORY OF DAVID COPPERFIELD (COMING SOON)
---
Nominated Films Previously Shown at Studio 74
---
THE IRISHMAN
Best film

Supporting actor (Al Pacino)

Supporting actor (Joe Pesci)

Best director (Martin Scorsese)

Adapted screenplay

Cinematography

Costume design

Editing

Production design

Special visual effects
JOKER
Best film

Leading actor (Joaquin Phoenix)

Best director (Todd Phillips)

Adapted screenplay

Original music

Cinematography

Editing

Production design

Make up and hair

Sound

Best casting
ONCE UPON A TIME… IN HOLLYWOOD
Best film

Leading actor (Leonardo DiCaprio)

Supporting actress (Margot Robbie)

Supporting actor (Brad Pitt)

Best director (Quentin Tarantino)

Original screenplay

Costume design

Editing

Production design

Best casting
FOR SAMA
Outstanding British film

Outstanding debut by a British writer, director or producer

Film not in the English language

Best documentary
ROCKETMAN
Outstanding British film

Leading actor (Taron Egerton)

Make up and hair
SORRY WE MISSED YOU
THE TWO POPES
Outstanding British film

Leading actor (Jonathan Pryce)

Supporting actor (Anthony Hopkins)

Adapted screenplay

Best casting
WILD ROSE
Leading actress (Jessie Buckley)
JUDY
Leading actress (Renée Zellweger)

Costume design

Make up and hair
MAIDEN
Outstanding debut by a British writer, director or producer
THE FAREWELL
Film not in the English language
APOLLO 11
DIEGO MARADONNA
BOOKSMART