Ashley Thorpe on 'What Makes Exeter Phoenix'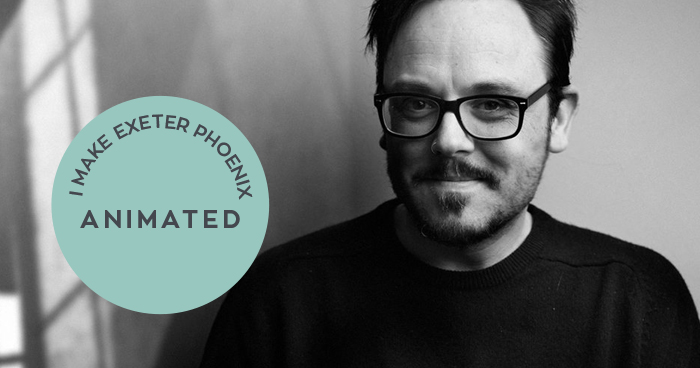 Last month we launched You Make Exeter Phoenix, an appeal to raise £60,000 for major refurbishments to our beautiful building.
Since then we've been talking to some of the people who make Exeter Phoenix thrive, like animator and filmmaker Ashley Thorpe. Ashley has worked closely with Exeter Phoenix for ten years, from being awarded a filmmaking commission, to teaching young people animation, right through to the screening of his first feature film in our cinema. Read on to find out what he thinks makes Exeter Phoenix so special.
How did you first come across Exeter Phoenix?
An small article in the Express & Echo back in 2007 publicising their film bursaries. The headline was 'Cash for films'. You had me immediately.
What's your first memory of Exeter Phoenix?
I think my first memory was that initial pitch meeting wherein I showed all my conceptual art and boards for 'Scayrecrow' and really being impressed at how genuinely receptive they were to my ideas. After a few years out in the industry wilderness that was a good feeling.
What has been your favourite visit to Exeter Phoenix?
I have so many. I have great memories of screenings, of family lunches, animation classes and fun nights out, it would be hard to choose.
Why is Exeter Phoenix special to you?
Exeter Phoenix gave me me a huge boost in becoming a film maker but has also given me a platform to not only become established in my chosen industry but teach and share my skill set with others. Exeter Phoenix gave me many opportunities along the way and I feel an enormous sense of loyalty to the place.
Where is your favourite bit of the building?
The new media centre is great but I also have a soft spot for the art room as I've been teaching animation to youngsters in there for a long time. That room holds a lot of very funny anarchic memories.
What's your favourite memory at Exeter Phoenix?
Again so many. I've done so much there over the years it's difficult to choose. I have fond – albeit hazy – memories of the premiere of Scayrecrow and my contingent shouting 'fix' when the awards were announced. The Into Film screening was lovely a couple of years ago wherein the three primary schools got to watch the animations they'd made in Studio 74. That was lovely.
If you could describe Exeter Phoenix in three words, what would they be?
See you Saturday? Community. Creative. Opportunities.
How has Exeter Phoenix changed since you first met us?
The core group and vibe of the place hasn't really changed at all. The media block has been completely overhauled for the better and it's much more what the place deserved. The extension and the building of Studio 74 felt like the recognition that the team deserved.
How did you first start making film?
I drifted into it via an interest in writing stories and illustration. Animation seemed like a way to combine my core interests so I went on to study Fine art and Film at University and got up to all sorts of mischief.
What advice would you give someone who wants to make their own films?
Just do it. Keep at it. But start off small. There are so many opportunities to both make and have your work screened nowadays. When I went to University that was pretty much the only way that a working class kid was ever going to get his hands on the kit if nothing else but now the equipment is accessible and you don't need a Steinbeck to cut it on. If you want to make a film, make it. Start small and accumulate your success stories and confidence as you go.
How has Exeter Phoenix helped your filmmaking journey?
I'd lived away from Exeter for about 10 years; some time in Manchester at the BBC, London and then Athens doing illustration, and when I returned to my hometown I had grown tired of trying to tip toe around the industry, constantly chasing whatever or whoever was fashionable to get noticed, so I channelled all my energies into doing what excited me. Exeter Phoenix film bursaries enabled me to make those initial animations and get started or established so their input has been absolutely crucial in my journey. I was selling tiles when I made Scayrecrow back in 2008. 10 years later I've finished my first feature, written radio plays and articles for my favourite magazines and pretty much doing everything I hoped I'd be doing when I was a kid. Apart from the millionaire space pirate bit.
Why do you think it is important for people to watch short film?
Just like short stories short films have their own dynamic and their own disciplines. I think they're essential to watch for a filmmaker because those disciplines are good exercise for narrative construction, immersion and character. For the viewer they're a fun succinct way to experience many diverse voices and ideas.
What makes film so special for you?
I love films because I can go into another world and I can get lost in it. It's always felt magical to me like capturing a dream state.
Which of your films are you most proud of?
I'm proud of them all in different ways. I'm proud of Scayrecrow because for something so sketchy and scrappy it's so emotive and romantic. I love The Screaming Skull because it's so ethereal and borderline abstract in places. But I guess ultimately I'm most proud of Borley Rectory because it's the summation of everything I've done so far, that nothing was played safe or compromised and that through hell and high water I finished the damn thing!
---
Find out more about our film commissions here >>
Find out more about You Make Exeter Phoenix here >>
Make a donation here >>