A New Chapter For Exeter Phoenix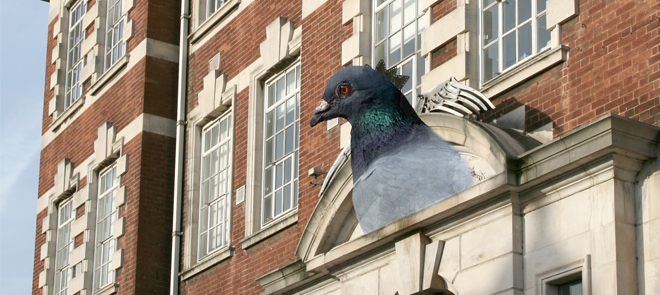 After many successful years as 'Exeter Phoenix' we have decided to re-launch ourselves with a more befitting mascot and icon to grace our building. From June, we intend on moving forwards as 'Exeter Pigeon' with a brand new statue above our entry way.
Speaking about the rebrand, Exeter Phoenix's director said: 'We wanted an animal that tied us more closely to the city. Head over to the Cathedral Green, and you can spy hundreds of pigeons, but not a single phoenix. We wanted our building to better represent Exeter's true landscape.'
The rebrand has been inspired by Mary Of Exeter, the city's war hero pigeon, who flew many military missions with the National Pigeon Service during the Second World War, carrying important messages across the English Channel and back to her loft in Exeter's West Street. Our building partners, Double Elephant Print Workshop and Freefall are currently working on a Heritage Lottery Fund project which will culminate in a film and exhibition about Mary Of Exeter. You can learn more about the project with these upcoming animation sessions over Easter.
But to succeed in our Exeter Pigeon rebrand, we need your help. We're currently accepting donations to aid in the production of the bespoke pigeon statue and brand new signage. Find out more about our crowd funding campaign for the rebrand here >>