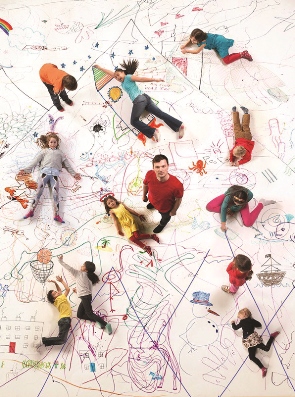 The Doodle Dance Show
*A note on transaction fees
A small £1.50 fee is added to each transaction. This covers the cost of getting your tickets booked, that's everything from the booking software to card charges. We don't charge this to make a profit.
Dance in Devon
The Doodle Dance Show
Dance In Devon bring an innovative family show to Exeter this November. The Doodle Dance Show is an interactive show that will get the whole family drawing, dancing, doodling and story-telling together.
Children and their families are invited to grab a pen and join in the action, as the whole audience comes together to turn a giant piece of paper into a delightfully anarchic world populated by crazy birds, dancing pirates, strange underwater creatures and maybe more…
The work premiered at Greenwich Dance and has since been touring the UK with sell-out shows and has received a fantastic response from all. It is the first in a series of Greenwich Dance Guaranteed works – a series of projects supported and produced by Greenwich Dance which will tour nationally. The show is produced by Greenwich Dance, and created by award-winning performers Anna Williams (Russell Maliphant, La Ribot) and Tom Roden (New Art Club).
'Very creative, funny and active'
'We went in grumpy & came out v. happy!'
'Beautifully staged, wonderful storytelling, very engaging and so much fun.'
'Having fun as a family and giving confidence to my 4 year old!'
AUDIENCE FEEDBACK


The Doodle Dance from Roswitha Chesher on Vimeo.
Venue: Exeter Phoenix