Shorts #5: Local Talent
Two Short Nights
Category
Book Now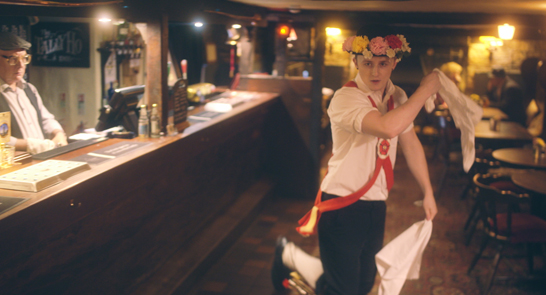 Shorts #5: Local Talent
*Please note that there is a £1.50 fee per transaction

Two Short Nights Film Festival
Now in it's fifteenth year, Two Short Nights Film Festival returns with a jam-packed programme of screenings and events celebrating the world of short film.
Discover inventive animation, stunning cinematography and storytelling at its finest with screenings featuring must-see films from around the globe alongside emerging local talent.
Shorts #5 – Local Talent

+ Q&A With Directors
Meet promising local filmmakers Luke Jeffery, Liam O'Hara, Jon Panton and Producer Will Shutt. We'll be premiering their new works and rounding up with a Q&A from the directors to talk about their filmmaking experiences.
Hell's Bells
Luke Jeffery, 2016
Rosie Dean doesn't look like a typical Morris dancer, but something about her local group has drawn her in to the extent that she has cut off all contact with her friends and family…??Quirky British pastime or sinister secret society? Hell's Bells exposes the shocking truth about this mysterious folk tradition.
Made with the support of Creative England via the BFI NET.WORK
Luke Jeffery – Director
Luke is a Devon based writer and director. He has previously written several plays, including Breathe With Me (Hall for Cornwall) and Sanctuary (Theatre Royal Plymouth), and in 2015 he co-created Granny Eyeball, a family show which received funding from Arts Council England. In 2014 he wrote and directed Seeing Red, a short film set in the 1960s, which won the audience choice award at the Two Short Nights film festival and screened at Glastonbury earlier this year. His latest short film, Hell's Bells, was produced as part of Creative England and the BFI NET.WORK's iShorts scheme for emerging filmmakers and is currently being submitted to festivals. Other experience includes working as a tour guide in a haunted cave, dressing up as a badger, and a brief appearance on ITV's Poirot.
Run It Off
2016, Liam O'Hara & Will Shutt
A long-distance runner, who has lost his way in life, inadvertently saves a young woman from throwing herself off a bridge. After their efforts to get home take a detour, a nighttime jog through the city reveals how each can gain enough courage to face the next day.
Liam O'Hara – Writer/Director
Liam has been a cinema projectionist, written for film magazines such as 'Hotdog' and now creates corporate content with Will at Sunstone AS. He has run community film making projects with the BFI and is the double-award winning writer/director of The Grendel Toots. Liam says of Run it Off:  
'Running helps your brain more than your body. It can take hours to burn away the extra calories in that lunchtime bag of crisps, but just minutes for a jog to wipe away all the stress and worry of a whole day. There's something magical and cinematic about taking characters with real problems and making them run to resolve them.'
Will Shutt – Writer/Producer
Will has recently worked on Fuzzbox a BBC Three Feed My Funny pilot with MyPockets. He's also collaborated as Assistant Producer with the band Elbow on last year's Lost Worker Bee EP, released by Meat Bingo. Will is currently a key member of the BA Film Production Course at the Arts University Bournemouth, whilst producing creative content in Norway and the UK with Liam, as part of Sunstone AS. Will adds of the film:
'In times of great despair and pain is the opportunity of growth. It's bittersweet, but it's in these times that we do the most learning. We become stronger and better people. In our story, this begins with our characters coming together and starting their newfound friendship, realizing what running has the potential of doing.'
SLEIGH
John Panton, 2016
A formerly successful indie band are back in the studio at the height of summer, with the hope of recording a commercial success – namely, a catchy Christmas track. Unfortunately, their last chance at saving their fading career is being scuppered by the obnoxious lead singer Rob (Aiden Casey). Their long-suffering manager Martin (Matt Berry) turns up at the studio, hoping to bring some positivity to the recording session. Alas, the combination of Rob's fondness for port and the intervention of his dad, Gerald (Nigel Planer), continues to hamper their chances of Xmas chart success.
John Panton – Director
John is a full time teacher in a very large secondary school, teaching Media and Film Studies. In the last six years he has made a series of short films, involving the school and wider community, generating a desire to make larger scale projects. His films have been made with a wide variety of professional talent including Emmy Award winning script writer David Quantick (Veep), local artist Moose Allain, NOW Films producer Michael Knowles (Away starring Timothy Spall out soon), actors Simon Evans, Rebecca Front, Sanjeev Kohli and Charlie Higson. Last year he completed a music video for Universal, Elbow's Lost Worker Bee, and hopes to begin working towards a micro-budget feature to shoot in 2017. SLEIGH, starring Matt Berry and Nigel Planer, is released via We Are Colony.
Venue: Studio 74, Exeter Phoenix