Ruaidhri Ryan: Beltcraft Studios
Thu 01 Jan 1970 - Thu 01 Jan 1970
Category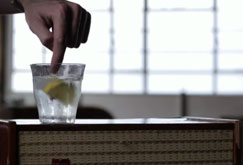 Ruaidhri Ryan: Beltcraft Studios
*Please note that there is a £1.50 fee per transaction
Ruaidhri Ryan: Beltcraft Studios
Artist Moving Image Screening
Screenings of Ruaidhri Ryan's short video artwork Beltcraft Studios will be screened prior to feature films in Studio 74 on selected dates.
Ruaidhri Ryan's practice is concerned with the construction of images and the influence this has on memory and desire.
With experience of working within multiple roles in film production, his own relationship with the image is extreme, fluctuating between poetic love and critical contempt. His work lies between these territories and ultimately functions as an endeavour to exhibit truth and authenticity in an image-saturated environment.
By discussing images technically, theoretically, philosophically and historically, he dismantles the 'image' in a variety of different ways.
Ruadhri Ryan was the recipient of this year's Exeter Contemporary Open Moving Image Artwork Award.
Beltcraft Studios will be screened prior to the following feature films:
VENUE: STUDIO 74, EXETER PHOENIX