Matt Gordon & Leonard Podolak
Category
Book Now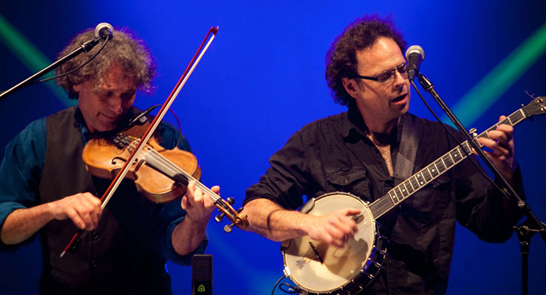 Matt Gordon & Leonard Podolak
*A note on transaction fees
A small £1.50 fee is added to each transaction. This covers the cost of getting your tickets booked, that's everything from the booking software to card charges. We don't charge this to make a profit.
Matt Gordon & Leonard Podolak
An irresistible brew of all-singing and all-dancing Appalachian mountain music played by two genuine flatfooting, fiddle and banjo virtuosos, as seen supporting Show of Hands at the Royal Albert Hall.
Leonard Podolak has been touring full force for the last 22 years mostly with the Grammy Award winning The Duhks. He is a critically acclaimed 5-String Claw-hammer banjo player, and is known for putting together wonderful combinations of musicians, often creating a full, but new sound in what ever project he touches.
The Duhks, having spent less time on the road, recently recorded a new CD so Leonard relishes every opportunity to tour and play with his great friend and musical partner Matt Gordon.
Matt Gordon has been living in the woodwork of the music business. He's a great fiddler, clogger, hambonist, and harmonica player. He toured in the 80s and 90s with the Fiddle Puppet Dancers, taking part in the London debut of Riverdance, and participating in festivals around North America and Europe, with that group.
Their latest CD, featuring their pal Bill Shanley called Three Thin Dimes is the first full recorded effort on Matt's part, and although he knows many people in the Old Time Music world, and has recorded a track or two on other CDs he has not toured much in the recent years prior to this project, focussing on his career as a woodworker, and cabinet maker.
Together, Matt, and Leonard put on an exciting Show of Old-Time traditional fiddle and Banjo Music. They also clog, and do hambone. And there number one goal is break down the wall between them and the crowd, where everyone in the room creates the experience. In the last couple years they have played at festivals in Canada, Scotland, They have toured western Canada, and back in the winter of 2012 opened the Show for Show Of Hands, Wake The Union Tour in theatres all across the UK.
Venue: Exeter Phoenix