This event has passed.
Legend (18)
Fri 11 Aug 9600 - Thu 01 Jan 1970
Category
Book Now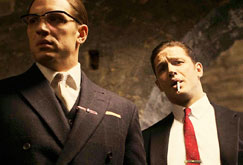 Legend (18)
*Please note that there is a £1.50 fee per transaction
Legend (18)
UK, France, 2015. Dir. Brian Helgeland
In a gritty and terrifying double performance, Tom Hardy is both Ronald and Reginald – the Kray twins intent on one day ruling London and gaining the reputation as the most notorious gangers in history.
From Academy Award winner Brian Helgeland (L.A. Confidential, Mystic River) comes the true story of the rise and fall of Reggie and Ron Kray, both portrayed by Tom Hardy in an amazing double performance. Legend is a classic crime thriller taking us into the secret history of the 1960s and the extraordinary events that secured the infamy of the Kray twins.
Showing Times:
Mon 7 Dec: 7.30pm
Thu 10 Dec: 7.30pm
VENUE: STUDIO 74