A-Tissue A-Tissue
Category
Other Information
Suitable for under 5s
Book Now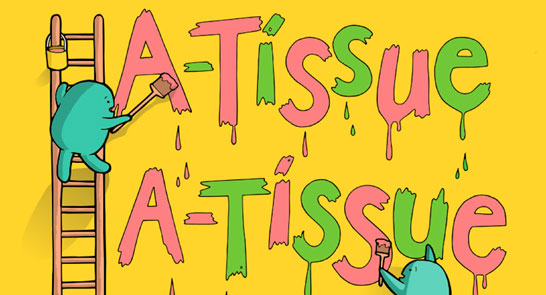 A-Tissue A-Tissue
*Subject to a £1.50 ticketing system charge. We don't charge this to make a profit. Find out more >>
Above Bounds Theatre
A-Tissue, A-Tissue
Above Bounds Theatre Collective invite you into the mesmerising world of A-Tissue, A-Tissue where the only limit is how far your imagination can take you. Dive deep into oceans, fly through soaring skies and party like there's no one watching!
Inspired by the world of Fables and Nursery Rhymes, A-Tissue, A-Tissue explores play, story and music through an energetic, immersive and interactive experience, perfect for Under 5's and their families.
Above Bounds previously brought you The Elves & The Shoemaker in 2018 & The Ugly Duckling & Other Tales in 2017. They are an emerging theatre collective based in Plymouth who aim to encourage engagement in the arts through a mixture of professional shows, educational workshops and community outreach.
Venue: Exeter Phoenix, Voodoo Lounge