The Cabinet Of Madame Fanny Du Thé
Riddlestick Theatre
Category
Book Now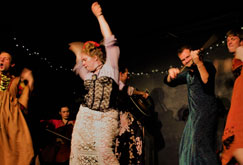 The Cabinet Of Madame Fanny Du Thé
*Subject to a £1.50 ticketing system charge. We don't charge this to make a profit. Find out more >>

Riddlestick Theatre
The Cabinet Of Madame Fanny Du Thé
---
TICKET OFFER – SAVE £6
Explore more of our theatre and performance programme, and enjoy money off your tickets! Save £6 when you book for three shows from our performance programme.
Book any three theatre or dance shows and your £6 discount will be applied automatically.
---
Listed in The Guardian's Best Shows at the Edinburgh Festival 2018
You are cordially invited to take a peek inside Madame Fanny Du Thé's cabinet of curiosities! Unsatisfied with simply staying still and looking pretty, Fanny has ventured across seas and explored the world. Now she's back, and wants to share her new-found worldly wisdom with you, you lucky devils. Reach into her cabinet and join Fanny on a musical voyage of hilarity. Tales of woe, tales of science, tales of curses, tales of defiance. (Also, some juggling.) But beware! Somebody's out to sink her ship.
Riddlestick Theatre are dedicated to tickling fancies with weird and wonderful stories and enchanting live music. Roll up your sleeves and choose the tales we tell in this riotous celebration of curiosity and imagination. Will you fondle the Frenchman's finger? Will you meet the talking sheep? There's only one way to find out – come along and take a peep.
'Through tales of pirates, milkmen and mad scientists, the ensemble create a vibrant world of adventure. Their energy is boundless, the script fiercely intelligent and the original live music bound to stay dancing through your head.'
THE GUARDIAN
'This is creative, imaginative theatre at its very best – and even the greatest cynic will likely be left feeling thoroughly entertained and amused.'
BRISTOL 24/7
'Through a whirlwind of tall tales and song, Riddlestick Theatre had me hanging onto their every oddity.'
EDFRINGEREVIEW
Venue: Exeter Phoenix, Voodoo Lounge