Creative Opportunities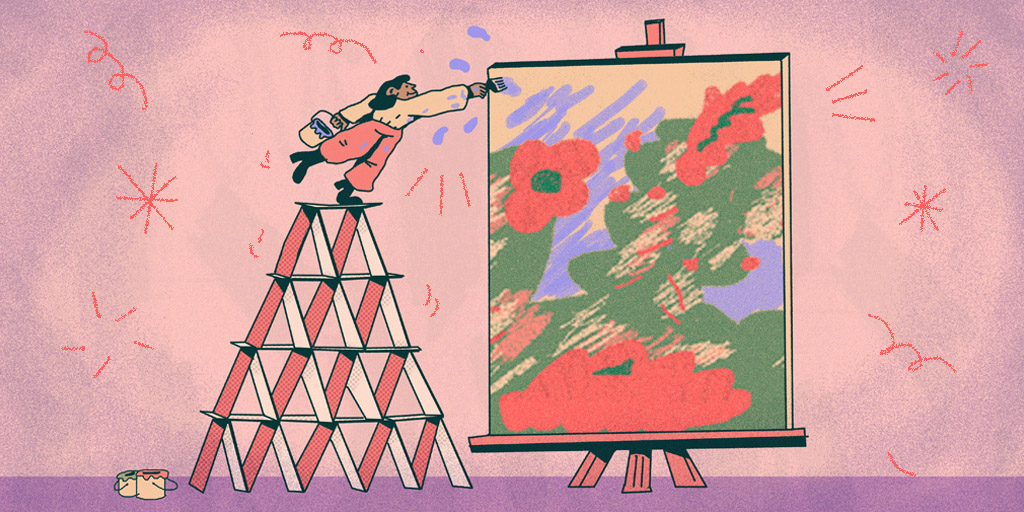 This page is dedicated to sharing creative opportunities both here at Exeter Phoenix and from other creative projects and organisations in the region.
Opportunities at Exeter Phoenix
Get involved in our upcoming 'isolation windows' exhibition
Ahead of visual artist Catherine Knight's upcoming exhibition at Exeter Phoenix, we invite you to get involved in her Isolation Windows project. Anyone is invited to post a photograph of their own window (including the window frame) to their own Instagram, Twitter or Facebook feeds. Use the hashtag #myisolationwindow along with your first name and location. From these pictures, the artist will select and paint more images for inclusion in the project.
Bloom poetry competition
We delighted to announce the very first Bloom Poetry Competition. This inaugural competition is taking place as part of Bloom – our virtual festival marking Mental Health Awareness Week.
The theme for Mental Health Awareness Week 2021 is nature and the environment and we invite your poems on this theme. Poems may also touch on themes of mental health and wellbeing, but they do not need to.
The competition is free to enter and open to all. There are two categories:
Bloom Junior Poetry Competition (for ages 17 and under)
Bloom Poetry Competition (for ages 18 and over)
Whatever your rhyme or reason for writing poetry, we look forward to reading your entries!
Bloom Community Exhibition
Bloom: Exeter's Festival Of Mental Health Awareness returns to Exeter Phoenix this May. Following on from last year's virtual community gallery we are now inviting your entries to the Bloom Community Exhibition 2021.
The virtual Bloom Community Exhibition 2021 aims to spread positivity through sharing creativity and talent across our community. The theme for this year's exhibition is nature and the environment.
Submissions are free and open to everyone – whether you're an absolute beginner, an experienced artist, or just want to share some of your lockdown creativity. All forms of art are welcome; paintings, drawing, craft, sculpture, digital art, photography, sketches, works in progress. You can submit up to 5 jpeg images
SCRATCH NIGHT OPPORTUNITY
Has lockdown provided you with a chance to write the first draft of that script you'd been meaning to write? Or practice some new choreography in your garden? Got a bunch of new ideas, but no platform to deliver them? Here's your chance! Exeter Phoenix is launching a new scratch night for the city.
The first event was planned for November but has been postponed due to the announcement of a second lockdown. If you are interested in performing at an upcoming Scratch Night please contact Naomi to register your interest.
Join Our Team Of Volunteer Stewards
None of the day to day activity at Exeter Phoenix could be accomplished without our passionate team of volunteers and staff to make it happen. We're always looking for new people to get involved.
Exhibiting Opportunities
Gallery333 is a dedicated space to exhibit small, contemporary art installations. It is an intimate 'window' gallery space with a secure glass door situated in a busy location within the building. Dimensions are 125cm high x 74cm wide x 36cm deep.
Double Elephant Print Workshop Gallery in our busy café bar offers a great platform for visual artists based in the South West to exhibit and sell their work. Suitable for 2D artworks with max.  dimensions of approx. 1m. We are looking for a range of contemporary practice including challenging and experimental work
Submissions should be by email with images or web link attached along with an outline proposal, statement and CV if applicable

Daisi Seeks New Board Members
Are you interested in joining the Daisi team as a trustee? Or do you know someone who might like to get involved?
Trustees are central to the success of Daisi, being responsible for the overall direction, strategy and vision of the charity.  This is a voluntary position, and we would ask you to join us for a minimum of 4 meetings a year with some additional commitment to working with the Daisi staff and trustees through working groups and/or informal conversations.