Young In Hong: Exhibition Closing Event and Performance
Category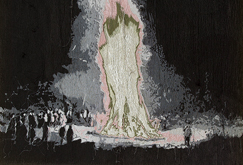 Young In Hong: Exhibition Closing Event and Performance
Young In Hong: Exhibition Closing Event and Performance
The Moon's Trick
Join the artist for a glass of wine at a special event to mark the end of the exhibition. The event will include a live ensemble performance of Young In Hong's visual score Looking Down From The Sky (2017) with musicians from A Quiet Night In.
The Moon's Trick is a solo exhibition from South Korean artist Young In Hong that encompasses drawing, textiles, sound installation and performance to explore processes and ideas around authorship, translation and reinterpretation.
This event was rescheduled from the beginning of the exhibition due to severe weather conditions.
VENUE: PHOENIX GALLERY