Valerie June
'+ Will Varley
Category
Other Information
standing
Book Now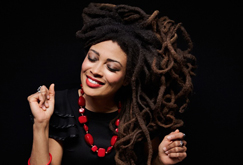 Valerie June
*A note on transaction fees
A small £1.50 fee is added to each transaction. This covers the cost of getting your tickets booked, that's everything from the booking software to card charges. We don't charge this to make a profit.
Valerie June
+ Will Varley
If Valerie June had been a roots artist in America 80 years ago, and she often sings as if she was, she might have been a principle influence on today's myriad retro troubadours, hers a stunningly emotive amalgamation of blues, folk, gospel, soul, Appalachian and bluegrass (including irresistible banjo).
Like a potent distillation bubbling on a Prohibition-era porch, Valerie June makes self-styled "organic moonshine roots music", music for the porch parties of today, a party where she strums her guitar, plucks her banjo, opens her mouth and delta-blues-country stridently sashays out, a stunning peal somewhere between Dolly Parton and Billie Holiday.
Venue: Exeter Phoenix